Thick Mineralisation Intersections Continue from Shallow Depths at Nanadie Well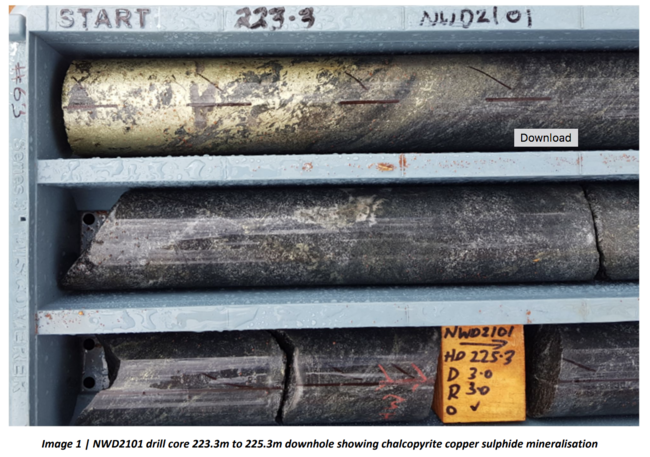 Highlights:
1,700 metre Phase 1 diamond drilling programme is ongoing

The 5 th diamond drill hole of the Phase 1 programme has continued to intersect consistent sulphide mineralisation at shallow depths ranging from 45m to 290m

Diamond drilling of the supergene and sulphide mineralisation to confirm geology and obtain mineralised material for metallurgical test-work
Cyprium Metals Limited ("CYM", "Cyprium" or "the Company") is pleased to provide an update of the resource extension and metallurgical drilling at the Nanadie Well Copper-Gold Project. This programme began Cyprium's strategy to drill out the resource at the Nanadie Well Copper-Gold project as shown in Figure 1.
Executive Director Barry Cahill commented "We are pleased to provide another update of our Phase 1 diamond drilling programme at the Nanadie Well Copper-Gold Project. The latest drill hole of the drilling programme has continued to consistently intersect thick zones of sulphide mineralisation along strike and at shallow depths. We have been impressed from what we have seen in the diamond drill holes completed to date and we look forward to providing detailed of the assays results as they become available".
Attached:
Image 1 | NWD2101 drill core 223.3m to 225.3m downhole showing chalcopyrite copper sulphide mineralisation
- ENDS -
Full media release attached
Further information
Lexi O'Halloran
lexi@janemorganmanagement.com.au
943572