Rail upgrades in Cameroon facilitate the delivery of the Minim Martap Bauxite Project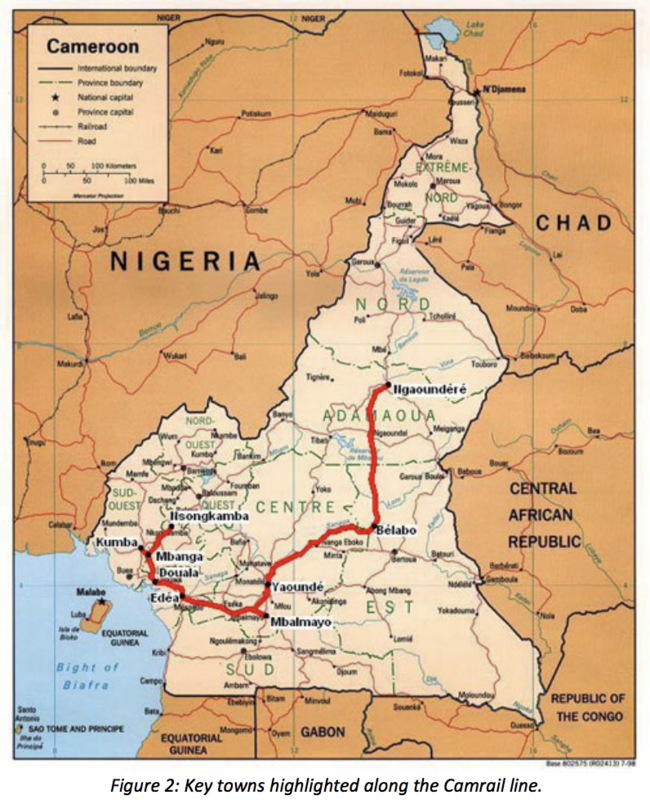 Canyon Resources Limited (ASX: CAY) (Canyon or the Company) is pleased to provide an update on ongoing rail upgrades currently underway in Cameroon as part of a five-year infrastructure renewal programme agreed between the Cameroon Government and Camrail SA (Camrail), a subsidiary of Bolloré Transport & Logistics. Camrail operates the existing rail network that passes approximately 50km from Canyon's world-class Minim Martap Bauxite Project.
Highlights:
13 Rail Bridges upgraded in Cameroon by the rail operator Camrail SA.

Upgrade work on an additional 55 bridges underway across the entire rail network, due to be completed in 2021. • 330km of track renewal has been completed.

The rail upgrades are in line with Canyon's PFS planning and project execution.
Under the programme, and with the contribution of the World Bank, Camrail organised on behalf of the Cameroon Government the upgrade of 12 steel bridges on the line between Yaoundé and Ngaoundéré and that of the Edéa railway bridge on the line between Douala and Yaoundé
As part of the projects implemented by the transport ministry, in February 2020 Camrail also launched upgrade work on 55 further railway bridges (metal bridges and reinforced-concrete slab bridges) across the entire rail network.
Canyon Resources Managing Director Phillip Gallagher said: "The upgrades of these railway bridges will increase the circulation speed of trains on these works, improve rail traffic safety and reduce the journey times of the rail transport of people and goods." said Hamadou Bakary, Director of Fixed Installations at Camrail.
"Canyon Resources is very pleased to see the success and progress of the ongoing upgrades to the Camrail rail network. The rail upgrade program and positive engagement with Camrail in Cameroon and Bolloré internationally supports the timely delivery of the Minim Martap Bauxite Project."
Figure 1: An upgraded rail bridge on the Camrail rail line.
Figure 2: Key towns highlighted along the Camrail line.
- ENDS -
For further information please contact:
Investor and Media Relations
Lexi O'Halloran
lexi@janemorganmanagement.com.au
+61 404 577 076
937368