Community & Environment
|
New Way To Turn Recycling Into Groceries with Coles on World Environment Day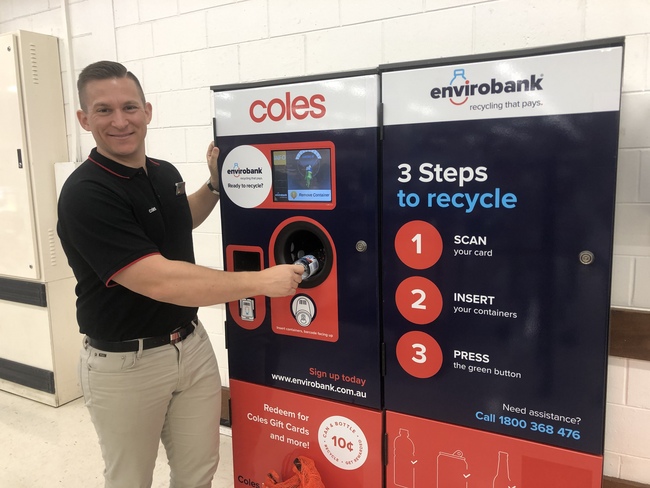 MEDIA RELEASE
New Way To Turn Recycling Into Groceries with Coles on World Environment Day
Territorians Recycled 60 Million Containers In Last 12 Months Says Envirobank
DARWIN, 5 June 2020 — Territorians who want to help the environment, and their hip pockets, have another reason to visit Casuarina Shopping Village from today with the introduction of Envirobank's Reverse Vending Machine designed to make it easier to recycle aluminium cans, glass and PET bottles---and get paid for it.
The RVM unveiled at Casuarina today on World Environment Day by Coles Supermarkets and Envirobank is the first of its kind to offer customers the opportunity to exchange their bottles and cans for supermarket vouchers via Envirobank's Crunch Platform. The automated machine makes it easier and more convenient for everyone to get involved in the Territory's innovative container deposit scheme.
The Cash for Containers scheme allows Territorians to return eligible drink containers between 150ml and 3 litres and collect a 10-cent deposit, reducing the number of recyclable materials going to landfill and providing extra income for many individuals and community groups.
The new Reverse Vending Machine from Envirobank, an Indigenous-owned company, makes it as simple to recycle a drink container as it is to buy one. It doesn't require an operator and allows people to recycle containers one at a time rather than having to collect and store them in bulk.
Sophie Wong, State General Manager for South Australia and the Northern Territory for Coles, said the initiative with Envirobank was in line with the company's commitments to sustainability and support of the indigenous business sector.
"It makes sense on so many levels. Coles has a strong public commitment to sustainability and this is a great opportunity for us to work with our customers to stop empty drink containers ending up on the streets, our waterways or in the landfill," Ms Wong said.
"It also makes it more convenient for our customers. Now they can recycle their used drink containers at the same time as doing their weekly shop. As a bonus, they'll also have a little extra money in their pockets to put towards their grocery bill," she said.
Narelle Anderson, founder and Managing Director of Envirobank said: "We're thrilled to be bringing our RVM & Crunch technology to the Territory with Coles. We already have a successful partnership with Coles in Queensland utilising our smart pods and we are delighted to add RVMS and our Crunch Platform to this partnership ."
Envirobank is a coordinator of the NT scheme. The company operates automated depots in Alice Springs and Pinelands. It also runs quarterly mobile collection services which provide the communities of Jabiru and Wagait Beach with access to the scheme.
Marking World Environment Day 2020
"It's absolutely fitting that we announce this new initiative with Coles in here on World Environment Day. We're very proud of the scheme in the Territory. After all, it's here that the first of Australia's modern container deposit schemes was launched back in 2012," Ms Anderson said
"In the eight years since we've collected and recycled more than 100 million cans and bottles and helped to stop valuable recyclable materials ending up as landfill or litter. Just as importantly, we've returned millions of dollars in deposits to eco-conscious individuals and communities," she said.
– ENDS –
About Envirobank Recycling
Envirobank Recycling is Australia's most innovative recycling company, combining technology with Australians' desire to recycle. Founded in 2008 to incentivise recyclers, it specialises in large, automated, high-speed collection points, RVms smart pods and a rewards platform called CRUNCH. Envirobank introduced the concept of Reverse Vending Technology to Australia, operating this type of technology for more than a decade. Envirobank's ultimate vision is to change the way Australians recycle and reward people for the good they do. For more information visit www.envirobank.com.au.
For further information: Paul McKeon, Mave, 0414 596 266
932871