First Ever Reusable Coffee Pod for Espressotoria in the World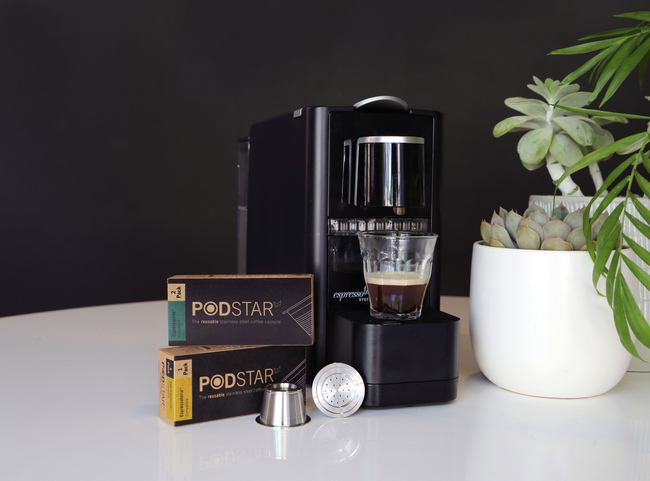 For Immediate Release: 1 June 2020
First Reusable Pod for Espressotoria Coffee Machines
The world's first reusable pod for use in Espressotoria machines has just arrived, designed by Sydney-based family business, Star Eco Products, the makers of Pod Star. Already known for their stainless steel pods for Nespresso, Aldi and Caffitaly machines, this is very good news for many Espressotoria users, who have been waiting for the opportunity to use different coffees in their machine and to eliminate their coffee pod waste. The new pod been has through months of design and testing, to perfect the pour. The result is a fully stainless steel, reusable coffee pod with no single-use parts – a zero waste product that gives coffee lovers choice.
Currently, the only coffee pods available for use in Espressotoria machines are plastic, single-use pods filled with Vittoria coffee. These pods contribute to over 50 billion pods ending up in landfill each year taking 200 – 500 years to break down. People are aware of the damage plastic creates, and many are looking for better options.
Espressotoria machines have a uniquely shaped pod, and all pre-filled disposable pods contain Vittoria coffee. Pod Star's stainless steel pods use any coffee ground to 'stove top grind'. " Baristas will grind this for you or it can be bought off the shelf pre ground ," Kirsten Williams, co-founder of Star Eco Products, the makers of Pod Star says.
"Pod Star was the first stainless steel coffee pod on the market for Aldi K-Fee machines, and it will be the first stainless steel coffee pod for the Espressotoria."
Along with all the Pod Star range, the highest-grade stainless steel (food grade 316L) has been used, which sets them apart from competition. Unlike reusable alternatives, which have reusable pods but still require single-use or silicone lids, Pod Star pod lids are also 316L stainless steel, making the Pod Star pods fully reusable and waste-free. "We made the choice early in the business to only offer products that are best for our customers and the environment ", says Kirsten. It's a double win for eco-conscious coffee drinkers. Reusable pods allow for a greater choice of freshly roasted coffee and reduce the amount of waste sent to landfill. You can be your own barista, avoid restrictive pre-filled pods and do something with more environmental care everyday.
"Stainless steel is the ultimate reusable material. We were encouraged by so many amazing Australians requesting a reusable pod for Espressotoria machines, so we invested time and money into further developing our stainless steel range. We spent six months designing, tooling and testing the new pods to get them right. Each pod is individually milled and run through a drilling machine to create fine holes on the lid and base. Precision is essential to allow the correct amount of water through the pod and to eliminate the possibility of coffee grinds escaping into the cup." Kirsten, co-founder of Star Eco.
Pod Star also ensure attention sustainable thinking in the packaging. Their new
range is parcelled in an uncoated, unbleached kraft board in boxes large enough for the products only.
"Our goal is for minimal packaging - we don't put a small product in a big box to get more branding on our packaging. We deliver via a carbon neutral delivery service and we don't include any plastic products. Even our scoops are stainless steel. Our office and packing centre reduces and recycles and we are conscious of our purchases and the supply chain of our coffee and all our office requirements. We stay true to our mission - to reduce waste and plastic by providing sustainable alternatives."
Australians consume well over 3 million coffee pods a day; a growing environmental problem that's clogging up landfill. It begs the question, how green is your coffee?
Despite there being some single-use coffee pods on the market that can be recycled, the environmental impact is reliant on consumers remembering to properly dispose of them and on communities having the recycling facilities available. Many areas don't. The plastic pods used in Espressotoria machines specifically, do not get recycled.
Pod Star's new range of stainless steel coffee pods for Espressotoria retail from $39.95 and are available to purchase around Australia.
Along with the Espressotoria, Pod Star have recently introduced stainless steel retractable straws and stainless steel clothes pegs – made from 316 stainless steel of course.
[END]
Product Highlights
● First reusable coffee pod for Espressotoria machines
● Stainless steel pod and lid
● Zero waste invention, patent pending
● Retailing from $39.95
● Designed for longevity
● Pinpoint holes for optimal filtration
● Australian designed by the designer of the ARIA Award
● Lid screws off for easy filling
● Espressotoria users now have freedom of coffee choice
Media Contact
Kirsten Williams | hello@podstar.com.au
More Information: Pod Star website | (02) 411 644 768
About
The Pod Star brand was created by husband and wife team, Kirsten Williams and Mark Denning. Kirsten and Mark started the business to align their values of sustainable living and environmental care with their business, design and marketing skills.
Mark has over 30 years experience as a designer, including the 90's ARIA music award and many album covers. Kirsten is passionate about the environment and our human impact, and with a degree in Counselling and Human Change along with years of business management, she complements Mark to increase environmental awareness and provide solutions. Both love coffee. But the waste problem caused by coffee pods led them on a mission to get more single-use pod replacements.
"There are still more coffee pod machines out there with different designs taking plastic pods. We want to design a stainless steel alternative for them all and are thrilled to now provide one for Espressotoria users."
Together, they live a life of no meat, daily meditation and nature walks. Their reusable coffee pods are currently sold by select retailers around the country, including Biome Eco stores, and via their website podstar.com.au . Stopping the waste from coffee pods doesn't end with Espressotoria pods - the couple aims to provide customers of all pod coffee machines the choice of better, freshly roasted coffee, at the price they choose without the waste.
932654