ISSUE OF PERFORMANCE RIGHTS TO WATERHOUSE VC CLEARS PATH FOR NEW PRODUCT LAUNCHES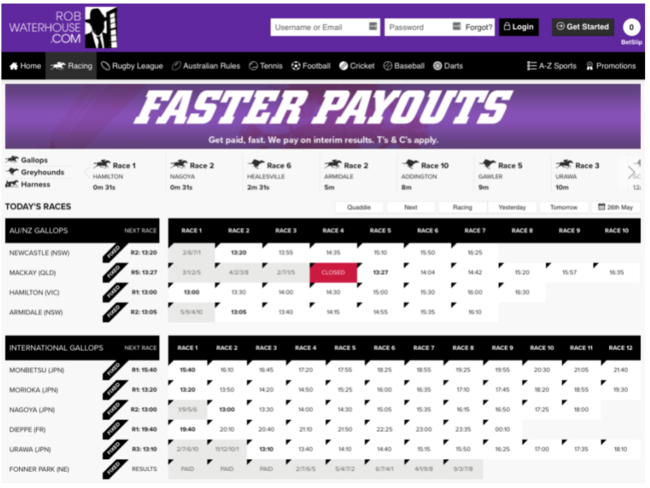 Highlights
BetMakers' partnership enables Managed Trading Services to go live
Rob Waterhouse set to launch famous bookmaking business online
Acquisition platform for the Tom Waterhouse App set to launch in June 2020
Following the general meeting of BetMakers Technology Group Limited (ASX:BET) ("BetMakers" or the "Company") held on 22 May 2020, BetMakers advises that today it has issued to Waterhouse VC Pty Ltd performance rights ("Performance Rights") which may convert into options over shares in the Company ("Options") based on the performance of two key products which are due to go live.
As set out in the notice of general meeting dated 17 April 2020 ("Notice"), the number of Options which may be issued on conversion of the Performance rights will be calculated against revenue generated under the new products.
Please refer to the Notice for the full terms of the Performance Rights. An Appendix 3G in relation to the issue of the Performance Rights is enclosed with this announcement.
As part of the agreements with the Waterhouse Group1 there are significant projects that are due to be delivered imminently.
Managed Trading Services (MTS) is a division that will provide Pricing and Trading services to Wagering Operators within the racing industry, which allows them to service and provide a competitive product across BetMakers' supply of more than 250,000 races per year, including Thoroughbred, Harness and Greyhound events from around the world.
BetMakers CEO, Todd Buckingham, commented: "

With the approval by shareholders of the Performance Rights now complete, we look forward to the launch of both key products with the Waterhouse Group – Managed Trading Services (MTS) and our Acquisition platform to be integrated in to the Tom Waterhouse App."
Launch of Robwaterhouse.com and Realbookie.com (Mark Sampieri)
The Company announced on 27 April 2020 that it had signed its first customers, on-course bookmakers Rob Waterhouse and Mark Sampieri, to provide an online platform and Managed Trading Services for these brands.
Rob Waterhouse and Mark Sampieri are two of Australia's premier on-course rails bookmakers and each is transitioning their respective businesses online for the first time.
The Rob Waterhouse online platform is expected be launched this week and Realbookie.com is expected to go live prior to June 30 this year.
Rob Waterhouse commented on the launch:

"In what has been testing times for on-course bookmakers globally, it is great to be able to transition to our online model with BetMakers.
We're looking forward to being able to offer our customers a leading online service in the coming weeks."
Acquisition and Retention platform for the Tom Waterhouse App
The second product developed by the Waterhouse Group and BetMakers partnership is an Acquisition and Retention platform for wagering operators to onboard and retain customers using technology adapted from BetMakers' Dynamic Odds platform.
BetMakers has adapted its Dynamic Odds platform including data feeds, client interface and existing and new features to enhance the user experience for punters.
The technology within this new product development will be integrated into the Tom Waterhouse tipping App with the intention to give users the ability to access multiple accounts within one application.
Tom Waterhouse's tipping App, which has more than 80,000 members, is scheduled to go live with these new features in June.
Tom Waterhouse commented:
"We have been strong supporters of BetMakers for some time and are particularly impressed by the service offering and technology they bring to the global wagering industry, which is one of the main reasons we invested through the Waterhouse VC fund initially."
"To now be launching the Tom Waterhouse App with BetMakers' products, which not only assists our members to make better pricing decisions but also the bookmakers to be competitive with their offerings, is a testament to their forward thinking in this global wagering landscape."
Jane Morgan
Investor and Media Relations
investors@thebetmakers.com
+ 61 (0) 405 555 618
932489