Archer Materials Limited (ASX:AXE)
Excellent drill results for the Eyre Peninsula HalloysiteKaolin Project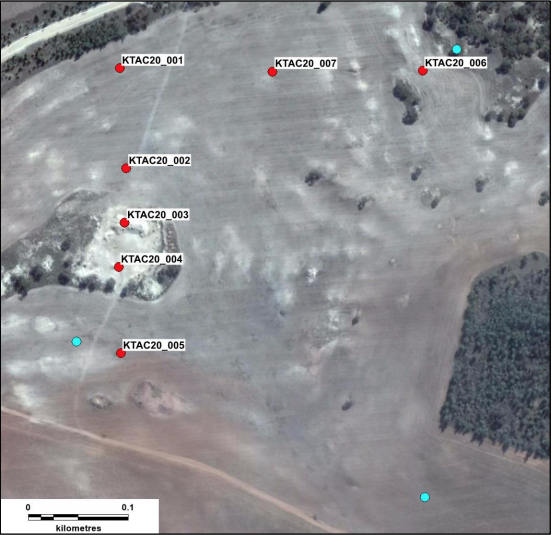 Archer Materials Limited ("Archer", "Company", "ASX:AXE") is pleased to announce the results from the Company's 100% owned Eyre Peninsula Halloysite-Kaolin Project ("EP Project"). The EP Project comprises the Kelly Tank, Bunora and Bunora East prospects ("Prospects") and is located 115km west of the Whyalla Port, South Australia (Fig. 1). The EP Project is separate to the Company's Franklyn Halloysite-Kaolin Project which is located approximately 220km east of the EP Project.
Highlights:
Archer recently completed a 21 hole aircore drill program on the Eyre Peninsula in South Australia, with seven holes drilled at Kelly Tank, eleven holes at Bunora, and three holes at Bunora East.

Drill holes at Kelly Tank consistently reported grades over 30% Al2O3 with most of the mineralisation starting from the surface.

Bunora target drill hole BNAC20-006 intercepted high grade kaolin - 17m @ +36% Al2O3 in the -45 µm size fraction.

High grades of up to 36.8% Al2O3 and recoveries over 90% reported from Bunora East drilling.
Drilling showed that the geology appears slightly different at each of the Prospects, which may offer opportunities to develop products with different halloysite and kaolin specifications. White kaolin was recovered from each prospect with the fine screened fraction reporting the favourable result of low iron impurity levels.
Each of the Prospects that were drilled are at least 5km apart (Fig 1.) and represent large areas. The results from the latest drilling and test work will allow the Company to accurately target and focus future exploration efforts and thereby derisk the development of the EP Project.
Commenting on the drill results, Archer Executive Chairman Greg English said, "We are pleased with the results from the latest drilling at the EP Project with high-grade kaolin intercepted from the surface. To intercept high grade kaolin near the surface is a great result.
The drill results from the EP Project complement the recent drill and metallurgical test results from the Franklyn Halloysite-Kaolin Project. As a Company, we are fortunate to have two substantial discrete Halloysite-Kaolin projects at Franklyn and the Eyre Peninsula".
Fig. 1. Location of holes drilled by Archer (red)this year and holes drilled by a previous explorer in 2014 (yellow).
Fig. 2. Location of holes drilled by Archer (red) this year and holes drilled by Pechiney in 1970s (blue), note the appearance of white kaolin at the surface is clearly visible.
ASX Announcement:
https://www.asx.com.au/asxpdf/20200406/pdf/44gqzn5zg0vw4d.pdf
For further information, please contact:
Jane Morgan Management
Investor and Media Relations
jm@janemorganmanagement.com.au
+ 61 (0) 405 555 618
930387