Machines4U Releases Australia's First Capital Equipment Buyer Data Report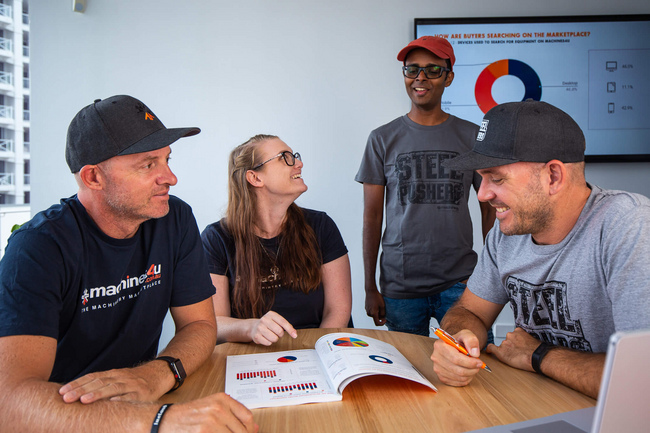 ---
Machines4U Releases Australia's First Capital Equipment Buyer Data Report
FOR IMMEDIATE RELEASE
(February 6, 2020) Machines4U, one of Australia's largest online marketplaces for capital equipment, has released a comprehensive industry report detailing the buyer behaviour and search trends of their marketplace. Machines4U's Big Orange Report encompasses 15 machinery industries with over 200 insights, making their 128-page report one of a kind.
The report provides a glimpse into marketplace buyer and machinery trends with data presented from the Machines4U database and Google Analytics data. Co-founders Luke Bruce and Steve Krebs are excited to share this information and provide the industry with insights about the marketplace they have never released before.
"Machines4U is an ecosystem 13 years in the making, and it's still evolving. This report is the first of its kind for our online marketplace, and we sincerely hope you find it useful," they said.
In the last financial year, the report shows 35 million unique visitors, 106 thousand assets listed and how 45.81% of buyers prefer email contact across all industries.
What's in the Report
Insights within the report include:
Marketplace and organic search trends

Year on year trends

Machinery trends

Search & enquiry behaviours of buyers

Key industry players & equipment categories
Machines4U Head of Content, and the woman behind the report, Louise Heginbotham, says the report truly is unique.
"After 13 years in the industry, we realised we had a lot of valuable data to share. We set out to answer the big questions like, how are buyers searching? What are they looking for? How have machinery trends changed over the years? Who are the key industry players? All across 15 machinery industries."
"We found some surprising and interesting statistics while compiling this report. That's the beauty of the data, it paints a picture of the marketplace and helps us connect the dots to better understand our buyers. We knew we weren't the only ones who could benefit from this report, which is why we've chosen to share it with the industry."
Some industry statistics that were a welcome surprise include the agriculture industry increasing in listings added to the platform, average lead value and organic traffic across the country.
Key Insights
Other key insights include:
41.3% of all marketplace leads submitted over FY18-19 were after-hours (between 5pm and 8am)

Machinery buyers on the marketplace are most active at 8pm on Wednesdays

More machinery buyers are adopting mobile search, which has increased by 6.1% since 2016

Traffic for agriculture machinery increased by 18.65% year on year, with increases in traffic in every state/territory Australia-wide

Since 2016, listings for new tractors have increased by 7%
"While this report is created from Machines4U data, it isn't about us. The point of this report is to provide anyone within the capital equipment industry with total transparency on how people use our online marketplace, and provide a glimpse into what buyers are doing within each industry," said Louise.
It's these insights and more that make the Big Orange Report a valuable resource for anyone within the capital equipment industry.
The report is available for download now at https://www.machines4u.com.au/big-orange-report/2019-industry-report/.
Machines4U is a machinery marketplace committed to helping capital equipment dealers buy and sell machinery online. With 35 million+ annual unique visitors to their site and 400 members, Machines4U has become one of the largest online marketplaces for capital equipment. Find Machines4U on Facebook, Instagram, Twitter, YouTube and their website www.machines4u.com.au.
-END -
Please let Machines4U know via email of any articles published about the Big Orange Report.
Media Contact
For more information on the Big Orange Report please contact:
Heather Fellows
PR Liaison
heather@machines4u.com.au
1300 092 545
927625