Rox Resources Limited (ASX:RXL)
Further Exceptional Gold Results Confirm New Discovery: Grace Prospect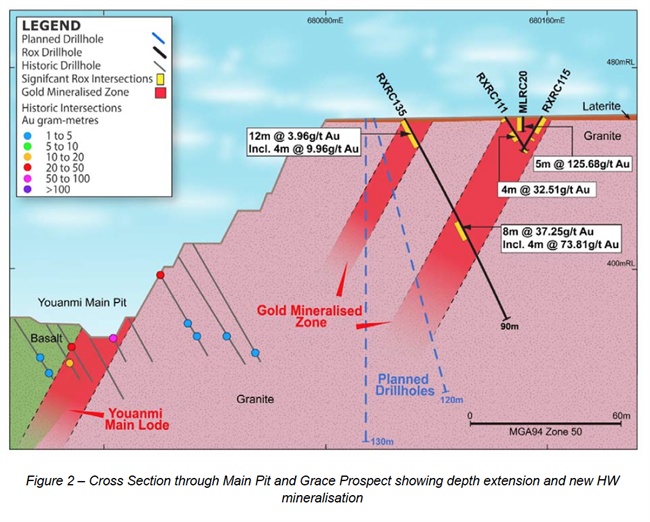 Further Exceptional Gold Results Confirm New Discovery: Grace Prospect
Highlights:
Drilling at the Youanmi Gold Project has intersected more exceptional gold grades. Results received from drilling along strike to the north and down dip of the initial discovery holes at Grace Prospect has returned results including:
RXRC135:
8m @ 37.25 g/t Au from 44m (Grace)
Including:
4m @ 73.81 g/t Au from 48m (Grace)

4m @ 9.96 g/t Au from 4m (new HW zone)
RXRC133:
4m @ 18.06 g/t Au from 16m (Grace)
RXRC132:
4m @ 11.02 g/t Au from 48m (new FW zone)

4m @ 5.13 g/t Au from 12m (new FW zone)
Australian gold and nickel company, Rox Resources Limited ("Rox" or "the Company") (ASX: RXL), in conjunction with its joint venture partner Venus Metals Corporation (ASX: VMC) is pleased to report results (Tables 1 and 2) from drilling at Grace Prospect. This drilling tested along strike and down dip positions relative to the drill results released to ASX on 24 December 2019. These results are from the Company's drilling campaign at the OYG JV1 which forms part of the wider Youanmi Gold Project. This round of drilling concluded in late December with assays recently received. The Company is awaiting a final batch of sample results from this program. Assays results for the 4m composite samples have been received and composite intervals exceeding 0.25 g/t will be re-assayed on a 1m basis.
These results are interpreted to be close to true width and define a series of moderate west-dipping quartz hosted gold lodes in granite that remain open at depth and along strike (Figures 1 & 2). This drilling has identified new goldbearing veins which are yet to be tested both above and below the Grace Lode previously identified in recent drilling (Figure 2).
Managing Director, Alex Passmore, Commented: "We are very pleased to report these follow on high-grade results from Grace Prospect. RC Drilling is set to recommence by the end of this week with a diamond drilling crew heading to site shortly thereafter. The results demonstrate the high prospectivity of the Youanmi Project area beyond previously identified ore zones."
926843