Motor Traders' Association of NSW
MTA NSW DONATIONS TO SUPPORT DROUGHT RELIEF AND FIRE FIGHTING EFFORTS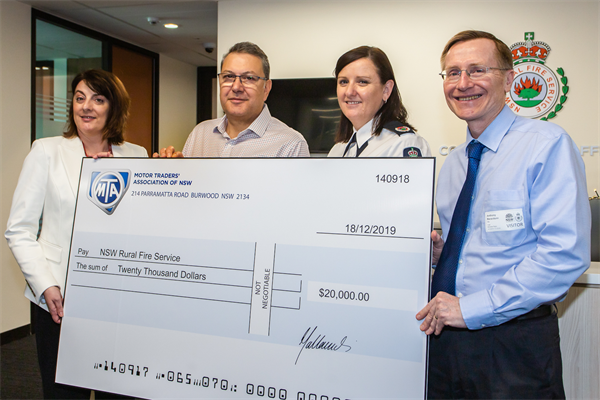 The Motor Traders' Association of NSW (MTA NSW), an Employers Association representing thousands of automotive businesses in NSW, has entered into the Christmas spirit this week with a $50,000 donation that will be shared among three organisations, Rural Aid, the New South Wales Rural Fire Service (NSW RFS) and the Australian Lions Foundation.
According to the recipients, the funds come at a critical time with the state enduring extreme fire events and the drought biting in rural areas.
Rural Aid Head of Corporate Affairs, Richard Forbes, said that the group was overwhelmed by the generosity of the community and corporate supporters alike.
"Many parts of rural Australia have been in drought now for a long time, so it's important that Rural Aid steps up its efforts to support our farming communities," Mr Forbes said.
"Contributions such as this one from MTA NSW, allow us to ramp up a number of key programs including the supply of feed, financial assistance as well as counselling services for farmers."
NSW RFS Manager, Community Engagement, Anthony Bradstreet, said the donation was well received by the body, and came at a heightened time of need.
"The NSW RFS is extremely grateful to MTA NSW for its generous donation," Mr Bradstreet said.
"The funds will be put to good use across a variety of programs but will principally be used to support volunteers in their training and development.
"We are always thankful of financial assistance, and more broadly NSW RFS really values the close relationship we enjoy with local communities and working in partnership with them to prepare and overcome the challenges of the fire season."
Australian Lions Foundation Chairman, Tony Benbow, said the organisation's current priority was to support bush fire efforts in New South Wales, Queensland and most recently in Western Australia.
"The Australian Lions Foundation has a strong infrastructure throughout the country and is well placed to assist many communities that are being affected by the fires," Mr Benbow said.
"MTA NSW's donation will be put to good use in a range of activities. As an example, at the moment we're in the process of delivering, installing and filling 20 water tanks for families in NSW. These people have had flames licking at their back door, and although they've been fortunate enough to have had their homes saved due to the valiant efforts of NSW RFS and the SES, they remain isolated and without water.
MTA NSW CEO, Stavros Yallouridis said that approximately half its members were based in rural communities, and that these areas had been experiencing some challenges.
"A prolonged drought in the country as well as recent bushfires is seeing many areas of rural NSW doing things tough in the lead-up to Christmas," Mr Yallouridis said.
"Under these conditions the brilliant work of organisations such as Rural Aid, the NSW RFS and Lions Foundation really comes to the fore. These bodies are so selfless in the support that they provide to those in need – MTA NSW really values their work and we're extremely proud of what they do for vulnerable Australian communities.
"We hope that this donation on behalf of our Members will assist them in continuing their excellent work," Mr Yallouridis said.
925977