Minister for Veterans and Defence Personnel
Chester Media Release - MILITARY REHABILITATION AND COMPENSATION COMMISSION APPOINTMENT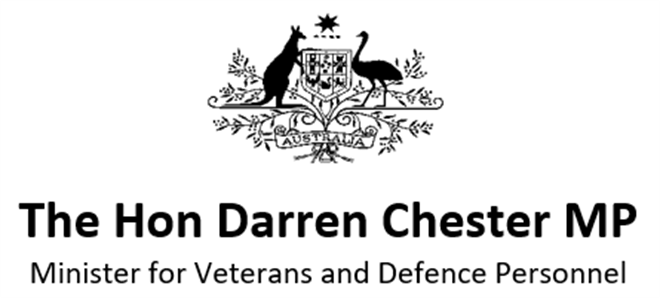 MEDIA RELEASE
Tuesday, 17 December 2019
MILITARY REHABILITATION AND COMPENSATION COMMISSION APPOINTMENT
REAR Admiral Sarah Sharkey CSC, Commander Joint Health and Surgeon General of the Australian Defence Force (ADF), has been appointed to the Military Rehabilitation and Compensation Commission (MRCC) replacing Air Vice-Marshal Dr Tracy Smart AO.
Minister for Veterans and Defence Personnel Darren Chester congratulated RADM Sharkey on her appointment, noting her extensive skills and experience in the military and health sector are integral to supporting and honouring our nation's current and former ADF community.
"RADM Sharkey has an extensive career in Defence, beginning her service under sponsorship while an undergraduate medical student at the University of Queensland and has enjoyed postings at sea and ashore," Mr Chester said.
"With her clinical background primarily in submarine and diving medicine, RADM Sharkey has more recently served at the Director-General level in Joint Health Command, and as Head of the Navy Health Community.
"I congratulate RADM Sharkey on her appointment and wish her well in her new role. I have no doubt she will be an asset to the MRCC."
Mr Chester thanked outgoing MRCC member AVM Dr Smart on her service to the Commission over the past three years, and for her more than 30 years' service in the Royal Australian Air Force.
"AVM Smart has had a long and distinguished career in the ADF and I thank her for her service and wish her all the best for the future as she transitions back into civilian life," Mr Chester said.
Holding Bachelors of Medicine and Surgery, Masters in Business Administration, and a Masters in Politics and Policy, RADM Sharkey is also a Fellow of the Centre for Defence and Strategic Studies and an Associate Fellow of the Royal Australian College of Medical Administrators. In 2014, RADM Sharkey was awarded a Conspicuous Service Cross for outstanding achievement as the Director of Clinical Governance and Projects and ADF Health Services Project Transition Lead.
Information about the MRCC, including Membership can be found on the DVA website.
ENDS
MEDIA CONTACTS:
Cedric Szigeti: 02 6277 7820
DVA Media: 02 6289 6466
Office of the Hon. Darren Chester, Canberra ACT.
Open Arms – Veterans & Families Counselling, provides support for current and ex-serving ADF personnel and their families. Free and confidential help is available 24/7. Phone 1800 011 046 (international: +61 1800 011 046 or +61 8 8241 4546) or visit www.OpenArms.gov.au
925848