TRANSFORMATIVE PROJECTS CELEBRATED AT THE 2019 NATIONAL ARCHITECTURE AWARDS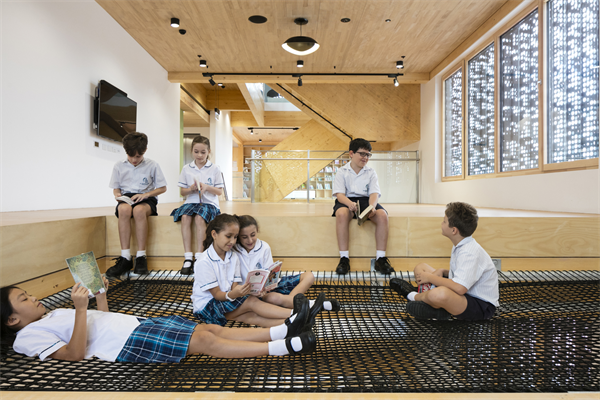 The winners of the Australian Institute of Architects 2019 National Architecture Awards were announced at a ceremony in Brisbane on Thursday 7 November, with two BVN projects receiving national recognition including a prestigious named award.
Our Lady of the Assumption Catholic Primary School in North Strathfield, NSW was awarded The Daryl Jackson Award for Educational Architecture and a National Award for Sustainable Architecture. The project is a geniune example of BVN's commitment to creating innovative and sustainable architecture that has the user at its heart.
Julian Ashton, BVN Project Principal for Our Lady of the Assumption commented 'It is wonderful for these projects to be recognised in such a way. This project has truly been transformative – from a derelict Telstra exchange to a contemporary, light-filled school which supports changing and evolving pedagogies using mass timber in a truly sustainable way.'
'The architecture, which implements a careful spatial program that facilitates a deep learning experience, both informs and is derived from the pedagogy of the school,' said the awards jury. 'The result provides innovative, uplifting and inherently flexible learning spaces that will serve the school well into the future.'
The awards jury also noted 'The use of a prefabricated cross-laminated timber floor and acoustic ceiling panel components required a commitment from both the architects and the client that is to be commended. This exceptional project speaks to the strength of the client–architect relationship and the contribution of the entire consultant team, which enabled an openness to ideas that create spaces for a new type of learning. Our Lady of the Assumption Catholic Primary School sets a new benchmark for the emerging vertical school typology through the transformative power of great design.'
The University of South Australia Cancer Research Institute in Adelaide, SA received two major awards: a National Award for Interior Architecture and a Commendation for Sustainable Architecture. The project is an important facility for health research and education in Adelaide's CBD, housing the Centre for Cancer Biology (CCB), the University of South Australia's School of Pharmacy (PMB) and a major science public outreach initiative MOD - Museum of Discovery.
The jury noted 'The University of South Australia Cancer Research Institute interiors are both refined and restrained, working to strengthen a clear architectural parti and distinguishing between work spaces, meeting places and circulation areas.'
'A beautiful building section organises research communities vertically, with meeting spaces, social spaces and terraces surrounding a northern atrium. Despite being centred around highly controlled work environments (laboratories), this building program enables remarkable workplace flexibility, openness and interaction, supporting the institute as a genuinely contemporary research hub,' commented the jury.
Special recognition was given to the UniSA design for being 'holistic in its approach to sustainability, from construction impacts to ongoing operation, robust building detailing and urban legacy.'
'It is an honour for BVN's work to be recognised at a national level by our peers. These wins demonstrate the importance of architecture by creating conversations about its greater contribution to cities and communities,' said Julian Ashton.
CONTACT
Editors note: for hi res images and further information please contact
Daisy Szakaly | P: +61 (02) 8297 7200 | M: +61 422 953 663 | daisy_szakaly@bvn.com.au
923815