artisan - home of craft and design in Queensland
Cape York couture finds home in Brisbane through design student collaboration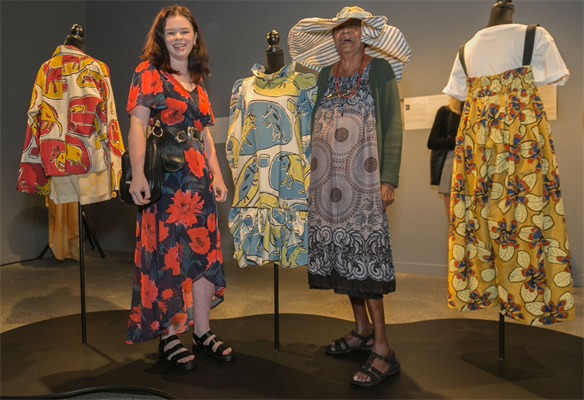 Cape York couture finds home in Brisbane through design student collaboration

A spectacular couture collection designed by QUT fashion students with textiles created by artists from the Cape York community of Hopevale will be launched tonight (Friday 20 September) for the first time outside of far north Queensland.
'Wubuul Buii' (meaning 'together') is an exciting exhibition showcasing stunning, one of a kind garments made from unique bush dye silk, and linen printed with original work by thirteen Hopevale artists, ranging in age from their late twenties to mid-eighties.
The collection debuted on the runway at the 2019 Cairns Indigenous Art Fair and will be exhibited at artisan in Brisbane's Bowen Hills from September 20 until November 9, 2019.
Manager of the Hopevale Arts & Culture Centre, Melanie Gibson, said the local artists requested that their designs be treated as art on the runway, and the QUT students honoured their wishes with respect and beauty.
"The oldest continuous living culture breathes its songlines through new world fabrics combined with timeless skills in this collaboration," Ms Gibson said.
"The stories that are told on these textiles are tens of thousands of years old and to see them constructed into beautiful fashion pieces is an opportunity that's humbled us all," she said.
"This collaboration has now offered us the chance to not just share those stories with our own Aboriginal community, but a wider audience. To have these pieces exhibited in the state's capital and to have the opportunity to sell our fabrics and other merchandise to a city audience while the exhibition is running is truly wonderful.
"We're so proud to see how these textiles have been given an amplified platform by these talented students – the stories of our elderly artists will now live on forever."
QUT Creative Industries Lecturer and awarded Brisbane designer Lydia Pearson mentored the third- and fourth-year design students completing the Wubuul Buii project.
"This collaboration is about so much more than just fashion and design," Ms Pearson said.
"While there are pieces in this collection worthy of any runway, the real richness comes from the opportunity for city students to connect with elderly artists living in a location many would never have been aware of if not for this project," she said.
"It was so fulfilling to see the relationships form and for the designers to really commit to understanding the stories behind the textiles they were working with.
"There is no ego in any of the artwork; it is all so joyful and honest and full of delight that it offered the students an instant connection to the fabric.
"The garments are all exaggerated and elaborate, and many were designed using full pieces of fabric with zero waste technique. We really wanted to honour the art by keeping the print as intact as possible.
CEO of artisan, Claire Sourgnes, said hosting the iconic Queensland exhibition was an honour.
"As the key not-for-profit organisation supporting Queensland's arts, craft and design community for nearly 50 years, it's a thrill to shine a light on collaborations such as Wubuul Buii that offer real value to the broader Australian creative landscape," Ms Sourgnes said.
"The textiles coming out of Hopevale are exquisite and not like anything else in the market today, and yet they're not stocked anywhere outside of far north Queensland," she said.
"This exhibition is a wonderful chance for every sector to explore new possibilities; from fashion to interior design to innovative architecture, the application options are endless, and it's a very exciting space to be to support meaningful investment in our regional and remote areas of Queensland."
KEY OPENING WEEKEND EVENTS

MEDIA CONTACT / MEDIA KIT
For further information, interviews and images contact:
Megan Woodward, megan@houseofcommunications.com.au, 0487 352 859
MEDIA KIT: Download the Media Kit. High-resolution images available.
OPENING PARTY | WUBUUL BUII
Friday 20 September, 6 PM
All Welcome. RSVP.
Wubuul Buii: Hopevale x QUT Fashion Collab will be launched at an official opening event at 6pm, Friday 20 September at artisan, 45 King Street, Bowen Hills.


IN CONVERSATION | CREATIVE COLLABORATIONS
Saturday 21 September, 11 AM
All Welcome. RSVP.
A panel discussion will be hosted in the Main Gallery alongside the exhibition at 11 am, Saturday 21 September. The panel will be led by the curator of social media platform Australian Indigenous Fashion, Yatu Widders-Hunt. Discussion will focus on collaborations with Indigenous artists and communities.
artisan – Queensland's home for craft and design
artisan is a not-for-profit organisation dedicated to supporting and promoting contemporary craft and design practice for both makers and their audiences. artisan began its legacy in 1970 and in 2020 will celebrate 50 years as Queensland's home of craft and design.
LOCATION
artisan's new home is in the Brisbane Showgrounds precinct.
45 King Street, Bowen Hills Q 4006
921458