Community & Environment
|
The Orangutan Whisperer Will Be In Sydney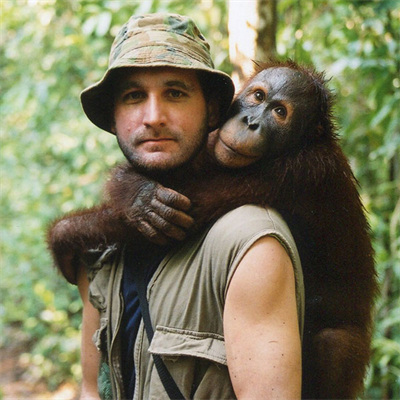 THE ORANGUTAN PROJECT
For Immediate Release
The World's Leading Orangutan Organisation, The Orangutan Project, to Hold Inaugural Gala Dinner Event to Benefit Critically Endangered Orangutans
The Orangutan Whisperer Leif Cocks will be joined by award-winning conservationist, Panut Hadisiswoyo and the Hon. Emma Hurst from The Animal Justice Party at Strangers Room, NSW Parliament House.
August 7, 2019 - Sydney, Australia. The Orangutan Project and the Hon. Emma Hurst, NSW MLC for The Animal Justice Party, will host a gala dinner honouring "The Heroes Saving Orangutans," including world-renowned orangutan expert and founder of The Orangutan Project Leif Cocks, also known as the Orangutan Whisperer. The event will be held Aug. 22 at the Strangers' Room within the iconic NSW Parliament House.
Leif was recently awarded the prestigious Pongo Environmental Award for his sustained advocacy supporting orangutan survival in Indonesia.
Previous Pongo Environmental Award recipients have included Ed Begley Jr., Dr. Jane Goodall, orangutan expert Dr. Cheryl Knott, professor and climate advocate Michael Mann, the producers of the film "The Dawn of the Planet of the Apes" and more.
Leif will share his unique perspective on what the great apes, our tribal past and a more philosophical approach to life can teach us about our humanity. Leif will also sign personal copies of "Finding Our Humanity," his latest book, which covers these topics and more.
Leif will be joined by Panut Hadisiswoyo — the recipient of a number of awards that recognise his pioneering conservation work, including the National Geographic Emerging Explorer Award and the UK's Whitley Award. Earlier this year, he was named a Chevening Changemaker.
A Q&A forum will be held that will include Emma, Leif, Panut and Evan Quartermain of Humane Society International as they discuss some of the key issues in conservation.
The evening, which will feature a three-course, five-star vegan menu, raises funds for The Orangutan Project to save Critically Endangered orangutans from extinction. The event is dedicated to supporting individuals, organizations, and projects that contribute to the conservation and protection of Critically Endangered orangutans, other endangered species and rainforest habitat.
The Orangutan Project (TOP) is an Australian registered charity with a mission to ensure the survival of all orangutan species in their natural habitat and promote the welfare of all orangutans.
Event info:
The Heroes Saving Orangutans
Thursday, August 22, 2019, 6pm
Strangers' Room, NSW Parliament House
6 Macquarie Street, Sydney, NSW 2000
Tickets: https://orangutan.org.au/sydney
Video content about Leif Cocks
Listen to the founder of The Orangutan Project talk about how he became involved with orangutans and his thoughts about conservation.
https://youtu.be/LMBZGn2tMFg
Australian zoologist Leif Cocks created The Orangutan Project in Indonesia to save orangutans and teach them how to go back to the wild. The primates go through three stages before they can become independent again.
https://youtu.be/agYkFM0f4HI (Short version)
Leif Cocks, a former zookeeper from Australia, has dedicated his life to reintroducing endangered orangutans into the wild, something previously thought impossible.
https://youtu.be/_NGNAj418Ew (Longer version of above video)
Reporter David Robinson brings us an incredible report about endangered orangutans.
https://youtu.be/jKBSp8jv0Kk
Video content about Panut Hadisiswoyo
Panut Hadisiswoyo, Indonesia - Whitley Awards 2015 (narration David Attenborough)
https://www.youtube.com/watch?v=zBm2u_dwncw
Panut Hadisiswoyo's speech at the 2015 Whitley Awards
https://www.youtube.com/watch?v=c0w1bunn_Nk
Saving Orangutans in Sumatra's Disappearing Rain Forests | Nat Geo Live
https://www.youtube.com/watch?v=QHU3kJ9OHho
Media Contact:
Marnie Frost
Philanthropy Manager / The Orangutan Project
AU: +61 0409 057 204
marnie.frost@orangutan.org.au
Troy Kenah
Vice President / The Orangutan Project
AU: +61 0416 273 135
troy.kenah@orangutan.org.au
919483