Diana Watson's first Gallery One solo exhibition: Drinks with the Artist event Saturday 13 July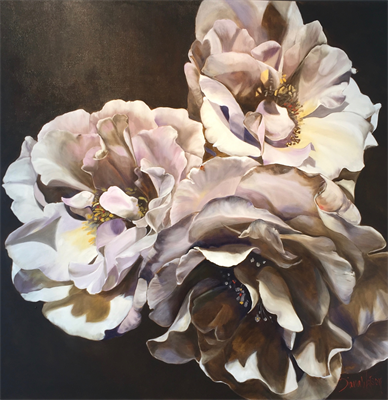 Leading contemporary artist Diana Watson's latest collection Foscari Chapter is now on display at Gallery One, located at The Brickworks in Southport. The exhibition runs from 5 July to 3 August 2019. Gallery One is hosting a 'Drinks with the Artist' event on Saturday 13 July from 3pm to 5pm. View the exhibition catalogue here.
The internationally renowned artist has received critical acclaim for her evocative still life paintings. Watson's art has been part of more than 40 solo and 26 group exhibitions in Australia, Italy and the US. Her work is held in collections all around the world.
"I capture and record the fleeting beauty of everyday life. There is a need to share this beauty in a world that is not without its foreboding. My hope is this imagery provides the viewer with a sense of hope and peacefulness", says Ms Watson.
The Foscari Chapter exhibition takes its name from the Villa Foscari, a patrician villa in the Veneto region, northern Italy, designed by the Italian architect Andrea Palladio. Like wandering the gardens and rooms of the villa, Diana's paintings are redolent in history and tradition, inspiring a romantic journey of the imagination. In a genre that is immemorial, Diana's dramatically illuminated flowers, fruit and fabric are symbolically presented to resonate warmth, nostalgia and intrigue. The beauty of each representation is characterised with strong sumptuous colour and a sense of movement, the artist utilising the baroque tenebrism to draw you in and around 'vanitas' of life's simple pleasures, fragility and transience.
In recent years, Diana's art has caught the eye of notable collectors. Her painting was featured in the Hollywood film Collateral Beauty (2016) and renowned restaurateur Rick Stein not only owns a still life by Diana but hangs it in one of his finest establishments, where her work also adorns the menus..
Born and raised on a property in rural Western Australia, Diana was drawing and painting from an early age the natural beauty and picturesque landscapes and animals surrounding her home. The childhood creativity led to an art education under eminent West Australian artist Robert Juniper who influenced Diana's appreciation to represent nature as truth, a value she holds to this day.
Watson launched her own art career after working for several years in fashion. Her work required her to travel to Italy regularly. This travel is a major influence on the paintings she is doing now. During this time her artistic creative skills were focused very much around raising her children and family life. It was not until her children left home that Diana had the most important resource—time to start painting as a serious artist.
For further information contact Karen Spooner, Gallery One manager P: 0414 418 262, (07) 5528 0110 karen@gallery-one.com.au
918096