Australian-Indonesian invention developed to tackle Indonesia's glaucoma crisis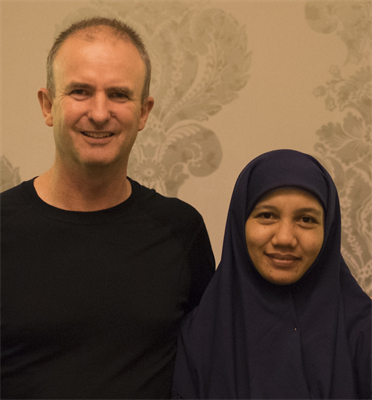 A new device developed by a young Indonesian ophthalmologist in partnership with Western Australia's Lions Eye Institute (LEI) is set to revolutionise glaucoma treatment in Indonesia.
Glaucoma affects 1.8 per cent of the Indonesian population over the age of 40. It is the second most common cause of blindness in Indonesia after cataract, blinding more than 0.2 per cent of the population. This compares to less than 0.07 per cent in Australia.
The Virna Glaucoma Drainage Device is named after Dr Virna Oktariana, who saw the need for an affordable tube solution for glaucoma to help more Indonesians access sight-saving surgery.
The device will be officially launched in Jakarta tomorrow Wednesday, June 26, from 9am at the IMERI FKUI (Indonesia Medical Education Research Institute).
The Virna Glaucoma Drainage Device is a tube implanted in the eye that drains away fluid and relieves intraocular pressure – a frequent cause of glaucoma and the result of a blockage in the eye's drainage system. Manufactured in Indonesia for $100, it is substantially cheaper than conventional treatments which cost around $1000 (US).
Professor Bill Morgan, Managing Director (Acting) of the LEI and a leading glaucoma clinician/researcher, began working with Dr Oktariana on the affordable glaucoma tube in 2011.
"We wanted to create a device which would work to prevent blindness, that could be easily manufactured in Indonesia and be easily inserted into the eyes of Indonesian patients by surgeons," he said.
Professor Morgan is also a co-inventor with LEI Professor Dao-Yi Yu of the XENÒ Gel Stent - a microfistula implant that reduces intraocular pressure in glaucoma patients. The XENÒ Gel Stent was introduced in Australia in March 2018 and is being widely used in the United States, Europe and other countries.
He said the Virna Glaucoma Drainage Device worked in a similar way but was made of plastic and silicone creating a well for fluid to flow and collect. It is designed to treat patients who have previously undergone standard glaucoma surgery like trabeculectomy or XEN which has failed. Unfortunately, there are many patients in Indonesia in this situation because the glaucoma there is generally more severe.
"The commonest type of surgery for glaucoma, trabeculectomy, often fails and most patients go blind," Professor Morgan said.
"In situations where this procedure fails, we usually opt for a glaucoma drainage device – but for most Indonesians, this is not an option due to the cost.
"Developing an affordable alternative was critical. We spent a long time taking measurements, testing material and designing the shape and size of the device. I am happy to say that Dr Oktariana mostly, myself and others have implanted more than 300 of these devices. Dr Oktariana and the University of Indonesia has analysed the results and the device will now be rolled out across the country."
Professor Morgan and Dr Oktariana will be joined at the launch by representatives of Rohto Pharmaceutical, which manufactures the device, Indonesia's Minister for Health, dignitaries from the University of Indonesia and a representative of the Australian Embassy in Jakarta.
Dr Oktariana has worked with hospitals in Sumatra and other parts of Java, Sulawesi and Bali to ensure staff are trained to use the device.
"One of the beauties of our design is that both Virna and I specifically designed the device to be easy to handle during surgery so that relatively novice eye surgeons can insert the device safely," Professor Morgan said.
The LEI has a long history teaching surgical and other skills in Indonesia and is currently developing a Memorandum of Understanding with the University of Indonesia to strengthen ties and foster more innovations and training opportunities in the future.
Media Contact: Francesca Robb – francescarobb@lei.org.au / 0409 102 556
Image: Lions Eye Institute Professor Bill Morgan and University of Indonesia Dr Virna Oktariana have developed an affordable glaucoma drainage device for the Indonesian market
Launch details
Hosts: Faculty of Medicine, University of Indonesia, in collaboration with PT. Rohto Laboratories Indonesia
Date and time: Wednesday, June 26 from 9am
Location: IMERI FKUI Hall Jl. Salemba Raya No 6, RW.5, Kenari, Kec. Senen, Kota Jakarta Pusat, Daerah Khusus Ibukota Jakarta 10430, Indonesia
917429