National Theatre Ballet 80th Diamond Gala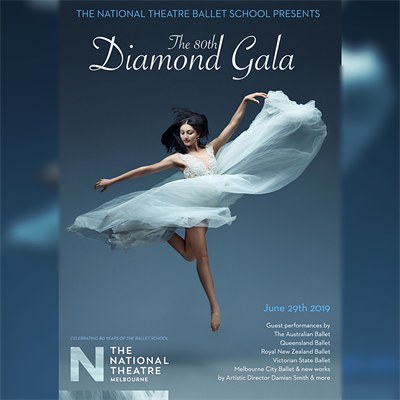 Australia's oldest ballet school, the National Theatre Ballet celebrates its 80th anniversary with a Diamond Gala historical event on 29 June. Never before has there been a gala performance that has brought together the Australian Ballet, the Queensland Ballet, the Royal New Zealand Ballet, the Victoria State Ballet, the Melbourne City Ballet and the National Theatre Ballet. They will come together in a one night only gala performance on 29 June that will 'take the road back' to celebrate the history and influence that the iconic dance training institution has had on the Australian dance scene.

The performances will feature the choreography of recently appointed Artistic Director Damian Smith, one of Australia's most accomplished dancers. Smith's international career spans more than two decades. From humble beginnings as an indigenous child growing up in Newcastle, Smith has gone on to star in over 200 performances on the world's most prestigious stages. He was the principal dancer for many years in the San Francisco Ballet, one of the world's leading ballet companies.

Appointed Artistic Director in June 2018, now Smith has also 'taken the road back', bringing his experience back home to Australia to inspire a new generation of dancers and revitalise Australia's oldest ballet school.

The National Theatre Ballet School was formed in 1939 and was the first of its kind in Australia to be attached to its own professional theatre company which would recruit students from the school into the company. More than 16,000 students have passed through its doors over the years.

"The School has been in hiding for many years. It's quiet, so I'm wanting to light a fire under it. I want to help this old beaux-arts theatre which is a Melbourne historical landmark be a beacon of art development, training and production. I'm really excited."

For Smith, teaching is a way to give back to the community and the craft that have allowed him to create an extraordinary life.

"I feel like all the information and all the knowledge that's been given to me doesn't belong to me, and it's my responsibility to pass that on."

For interviews and more information, please contact Lorda Omeissah

lorda@optusnet.com.au
Mobile 0413 044 332






About Damian Smith

Damian has jetéd across continents, starring in over 200 performances on the world's most prestigious stages. He has performed as a guest artist with the New York City Ballet, the Dutch National Ballet, Boston Ballet, Hamburg Ballet, performed in the Nijinsky Gala, guest artist with the Hong Kong Ballet, worked with the Royal Ballet and the Royal Ballet School and performed his final show with the Australian Ballet dancing with Principal Ballerina Amber Scott in Christopher Wheeldon's pas de deux After the Rain. Amber Scott is alumni and on the board of the National Theatre Ballet School and a close friend of Smith. But the Indigenous Australian dancer found his feet growing up in the New South Wales coastal city of Newcastle.

Smith's father passed away when he was three, leaving his mother to raise him and his five older siblings. A sporty kid, he was involved in soccer, football, athletics and swimming but when his mother was given two tickets to a local ballet school recital, he "woke up".

After more than two decades in the US, Smith moved to Melbourne in May 2018, where he has taken a full-time role as Artistic Director with the National Theatre Ballet School.





916499