Bilingual media release - Music talent transforms city venues for Vivid Sydney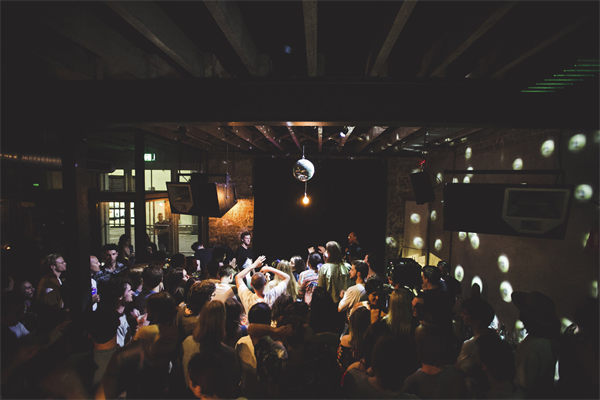 From a barbershop and a church to a brewery and cosy restaurants, venues across inner Sydney will feature a host of established and up-and-coming artists for Vivid Sydney 2019.
Much loved music hotspots like The Lansdowne and Freda's in Chippendale and The Vanguard in Newtown will also take part in this curated Vivid Music program that will bring more than 170 performances by 73 artists to 24 venues over 23 days.
The Vivid X|Celerate program of events for this year's festival is designed to boost the growth of Sydney's live music scene with support from the City of Sydney.
Renowned artists like Katie Noonan, The Catholics and Renee Geyer are programmed alongside local, emerging acts like Kim Churchill and I Know Leopard, ensuring the program has broad appeal and is giving artists the opportunity to perform to new audiences.
As part of Vivid X|Celerate, the City and the NSW Government are providing cash and in-kind support to each venue to enable them to curate, promote and market their own live music programs.
"This partnership with the NSW Government is about ensuring local venues are part of Vivid Sydney and benefitting from the tens of thousands of visitors it brings to our city," Lord Mayor Clover Moore said.
"This is the third year we have collaborated on Vivid X|Celerate, which shines a light on our local music industry which is enlivening the city all year round, and sees cultural activity taking place in unusual locations.
"It is also the eleventh year we have joined with Vivid Sydney, as the Southern Hemisphere's largest festival of light, music and ideas, to profile our city and its culture, creativity, and public spaces."
The City spends more than $37 million each year supporting culture development in Sydney, including world-class events like Vivid Sydney, grants and sponsorships, public art programs and community facilities.
Vivid Music curator Stephen Ferris said the festival was significant for the Harbour City in profiling Sydney as the hub of creative industries of Asia and the Pacific.
"Vivid Music is a diverse and dynamic program that complements the creativity and innovation showcased across Vivid Light and Vivid Ideas," Mr Ferris said.
"It's exciting to bring together some of the leading artists from around the world, the country and the state to shine bright on this international platform – Vivid Sydney – which is the largest festival of its kind in the Southern Hemisphere."
Other major attractions in the city area during Vivid Sydney include:
Customs House Under the Harbour
Circular Quay Infinity Room, Celestial Pancake, What is a City but the People, City Sparkle, Bubble
Magician, Regal Peacock, Let It Snow, Beat-loon, Triangulum, Habit-at, Timber Aurora,
The Harp of the City, Goo! and Ocean Sentinels.
Sydney Town Hall Heaps Gay Qween's Ball, Game Changer Series: Spike Lee
For more information on the Vivid X|Celerate program visit whatson.cityofsydney.nsw.gov.au or vividsydney.com/program/xcelerate
For media inquiries contact City of Sydney Senior Media Advisor Elaine Kelly on 0477 362 550 or ekelly@cityofsydney.nsw.gov.au
For interviews with Lord Mayor Clover Moore contact Julia Lenton 0410 748 039 or jlenton@cityofsydney.nsw.gov.au
About Vivid Sydney
Vivid Sydney is the largest festival of light, music and ideas in the Southern Hemisphere. Celebrating its eleventh anniversary in 2019, Vivid Sydney is continually setting the benchmark for world class events, creativity and innovation. It will transform the Harbour City into a colourful creative canvas from the 24 May to 15 June, 2019. The Festival features spectacular large-scale light installations and projections; contemporary and cutting-edge music performances and collaborations; public talks by renowned thought leaders, industry seminars, conferences and creativity workshops, all celebrating Sydney's place as the creative industries hub of the Asia-Pacific. Vivid Sydney is owned, managed and produced by Destination NSW, the NSW Government's tourism and major events agency, and in 2018 attracted 2.25 million attendees. For more information visit vividsydney.com
缤纷悉尼灯光音乐节在海滨之城乐起律动
2019年新一届南半球规模最为庞大的音乐、灯光、概念性艺术节 —— 缤纷悉尼灯光音乐节(Vivid Sydney)期间,诸多知名艺人和后起之秀将造访如:理发店、教堂、酿酒厂、小餐馆等不同寻常的演出场地,为观众献艺。
活动期间的缤纷音乐艺术(Vivid Music)环节将邀请73位音乐人在位于悉尼南城持盆戴尔地区(Chippendale)的兰斯顿酒店(The Lansdowne)、Freda's酒吧,新城地区(Newtown)的The Vanguard酒吧等24处多样新潮创意活动场地上演170多场演出,为人们奉献长达23天的狂欢盛会 —— 名为Vivid X|Celerate。
在悉尼市政府的大力支持下,本届缤纷悉尼灯光音乐节X|Celerate狂欢盛世主题会侧重于扶持本地音乐氛围和表演场所的繁荣发展。
本届阵容将把Katie Noonan、The Catholics和Renee Geyer等人气明星和Kim Churchill、 I Know Leopard等本地的演艺新人融合在一起,不但确保节目拥有多样性,还给音乐人提供了接触全新受众群体的机会。
悉尼市政府和新南威尔士州政府共同为参与Vivid X|Celerate的商业场所提供在资金和实物上的支持,以助其为演出活动进行策划、推广和宣传。
悉尼市市长Clover Moore说:"缤纷悉尼灯光音乐节能为参与其中的活动场所带来大量客流,同时也获得了丰厚的收益,州、市两级政府的合作是为了确保参与场地在活动其间的正常运作。"
"今年是市政府与缤纷悉尼灯光音乐节合作推出Vivid X|Celerate的第三年,如此的狂欢盛典让常年活跃我市氛围的本土音乐产业散发出了夺目的光彩,也让在意想不到的新奇场所举办多样文化活动成为可能。"
"本届活动也标志着市政府参与合作缤纷悉尼灯光音乐节的第11个年头,让这场南半球规模最大的灯光、音乐、概念性艺术节充分展示这座城市文化、创造力和地标场馆的魅力。"
每年,悉尼市政府都斥资$3700万(37,000,000)扶持本土文化发展,其中包括如缤纷悉尼灯光音乐节在内的世界级文化艺术节事活动、多项奖助金、赞助、公众艺术项目和基础设施建设等举措。
缤纷音乐艺术环节策划人史蒂芬·菲利斯(Stephen Ferris)表示,该活动彰显悉尼这座海港之城作为亚太创意产业核心城市的风采。
菲利斯先生说:"缤纷音乐艺术环节是一场活力、多元的狂欢,与缤纷灯光艺术(Vivid Light)和缤纷艺术创意(Vivid Ideas)环节相得益彰、相辅相成。"
"能够在缤纷悉尼灯光音乐节 —— 这一南半球最大的创意舞台上汇集来自全新南威尔士州、全澳乃至全世界的艺术翘楚群星荟萃,实在让人兴奋不已。"
缤纷悉尼灯光音乐节期间在悉尼市的其它主要活动还包括:
海关博物馆(Customs House) 超大规模投影制图体验《Under the Harbour》
环形码头(Circular Quay) 无穷尽投影展《Infinity Room》, 悬浮星空
《Celestial Pancake》, 微缩城市灯展《What is a
City but the People》, 巨型光束交响乐《City
Sparkle》,来自广州的互动灯展作品《 Bubble
Magician》, 动态彩光雕塑《Regal Peacock》,
晶体灯光造型作品《Let It Snow》, 互动灯光雕塑
《Beat-loon》、《Triangulum》、《Habit-at》, 九米长
木制炫彩长椅《Timber Aurora》, 巨型互动乐彩作
品《The Harp of the City》, 亲子虚拟互动彩色喷
泉《Goo! 》以及多样太平洋岛国文化传统图腾雕
塑形象的彩灯雕塑《Ocean Sentinels》。
悉尼市政厅(Sydney Town Hall ) 酷儿同性恋舞会Heaps Gay Qween's Ball,
知名电影人斯派克·李见面座谈会Game Changer
Series: Spike Lee
欲求Vivid X|Celerate 活动安排请登陆whatson.cityofsydney.nsw.gov.au
或 vividsydney.com/program/xcelerate
媒体信息或图片,请联系Elaine Kelly
电话0477 362 550或邮件ekelly@cityofsydney.nsw.gov.au
采访市长Clover Moore, 请联系通讯负责人Julia Lenton
电话0410 748 039或邮件jlenton@cityofsydney.nsw.gov.au
缤纷悉尼灯光音乐节简介
缤纷悉尼灯光音乐节是南半球规模最大的灯光、音乐、创意活动。2019年第11届缤纷悉尼灯光音乐节将继续为公众们呈现世界级多样性活动,并为大家展示不同凡响的前沿创意。悉尼市内的大街小巷和各大地标将在2019年5月24日至6月15日成为整个节日的异彩画布。活动期间将以彰显悉尼作为亚太地区创意之城的风采为主题,推出大型灯光展、大型幻彩投影表演、合作创意展示、前卫音乐表演及全球创意领袖、业界先驱极具启发性的专题讲坛、峰会和座谈会。缤纷悉尼灯光音乐节是由新南威尔士州旅游和重大活动机关 —— 新南威尔士州旅游局(Destination NSW)推出、管理、制作而成的盛会。2018年,该活动吸引观众225万人次(2,250,000)。详情请查阅:vividsydney.com
915981