URGENT SAFETY ALERT ISSUED TO SYDNEY INTERNATIONAL DRAGWAY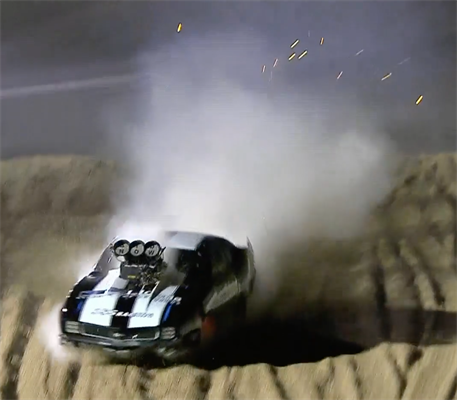 Serious safety concerns cloud Sydney International Dragway at Eastern Creek ahead of this week's Nitro Thunder, one of the biggest events on their racing calendar.
An independent report by Accident Investigation Services has cited no less than 10 safety concerns and prompted an urgent safety alert, as Australia's finest nitro pilots prepare for battle at over 500 kilometres per hour.
The report finalised on 17th April was commissioned to examine the failure of safety systems and circumstances of a high-speed accident that occurred at the Sydney International Dragway on 19th January involving the JSS Racing Camaro Pro Slammer. Mark George, principle of Accident Investigation Services reported that "it was a 'miracle' the driver of the vehicle, Sam Fenech, escaped serious injury or death as a result of the accident."
When asked about the new safety system Mr George said, "Given our review and analysis of the newly constructed safety net system, we request that the Sydney International Dragway and perhaps any interested parties, be urgently advised of our safety concerns for their necessary attention. We would recommend that a detailed engineering safety assessment of the new net system be undertaken by an accredited structural engineer who has appropriate knowledge and experience in road safety, crash worthiness of vehicles and associated occupant safety."
Accident Investigation Services and JSS Racing team owner Steve Sarkis, who's winning Pro Slammer was written off in the incident, believe that there are serious safety issues with the dragway that need to be addressed before any further races are held.
The report details a number of urgent safety concerns around the Pavement Braking Area, Gravel Emergency Braking Area, Safety Net System and End Tyre Wall. It further notes that the new double safety net system constructed at the site after the crash suffers the same design faults as the original, and analysis shows that it would be prone to double failure in high speed crashes similar to this case.
"My team and I are passionate about drag racing. It's a dangerous sport at the best of times, however we just need to heed safety precautions so that it can be as safe as possible", commented Steve Sarkis.
914812