Community & Environment
|
Rabobank named 'Australia's most recommended agribusiness bank'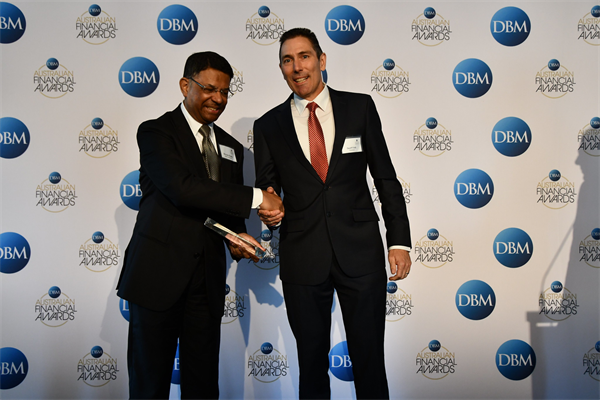 Rabobank named 'Australia's most recommended agribusiness bank'
Rabobank has been recognised as 'Australia's Most Recommended Agribusiness Bank'* in this year's DBM Australian Financial Awards.
The agricultural banking specialist was presented with the award at the recent DBM Australian Financial Awards ceremony in Sydney.
The accolade is among a suite of awards based on findings from national research agency DBM Consultants' survey questioning more than 80,000 consumers and businesses about their attitudes towards Australia's financial institutions and their products.
Rabobank Group Executive for Country Banking Australia Marcel van Doremaele said of all the agribusinesses surveyed, Rabobank's clients were found to be the most likely to recommend their bank.
"This is a demonstration of the value our clients place on the service and support they receive from the bank and the close relationships we enjoy with our clients," he said.
Mr van Doremaele said as part of a global specialist food and agribusiness banking cooperative which grew out of the Netherlands in 1898, Rabobank was founded by farmers for farmers.
"As a specialist agribusiness bank, our authentic and sole focus is on food and agribusiness and we have a deep knowledge and understanding right across the value chain," he said.
"As part of a global cooperative, Rabobank has no shareholders and our priority is our clients. We remain true to our mission – to create value for our clients, employees and the rural communities in which we work. And this is obviously recognised by our clients and very much resonates with them."
In Australia, Rabobank is one of the leading lenders to the farm sector and a significant provider of business and corporate banking services to the country's food and agribusiness industries.
Mr van Doremaele said the bank was "proud of the 'Most Recommended Agribusiness Bank' award and of the role we are playing in supporting our farmers to help feed the world".
<ends>
*This award is based on 12 months of Business Financial Services Monitor (BFSM) data from January-December 2018. For more information contact DBM Consultants at www.dbmconsultants.com.au or on 03 8809 5333
Rabobank Australia & New Zealand Group is a part of the global Rabobank Group, the world's leading specialist in food and agribusiness banking. Rabobank has 120 years' experience providing customised banking and finance solutions to businesses involved in all aspects of food and agribusiness. Rabobank is structured as a cooperative and operates in 38 countries, servicing the needs of approximately 8.4 million clients worldwide through a network of more than 1000 offices and branches. Rabobank Australia & New Zealand Group is one of Australasia's leading agricultural lenders and a significant provider of business and corporate banking and financial services to the region's food and agribusiness sector. The bank has 93 branches throughout Australia and New Zealand.
Media contacts:
Denise Shaw Skye Ward
Head of Media Relations Media Relations Manager Rabobank Australia & New Zealand Rabobank Australia & New Zealand
Phone: 02 8115 2744 or 0439 603 525 Phone: 02 4855 1111 or 0418 216 103
Email:
denise.shaw@rabobank.com
Email:
skye.ward@rabobank.com
914436