Community & Environment
|
World Animal Protection Ltd
Multimedia News Release: New report: A tail of suffering for captive dolphins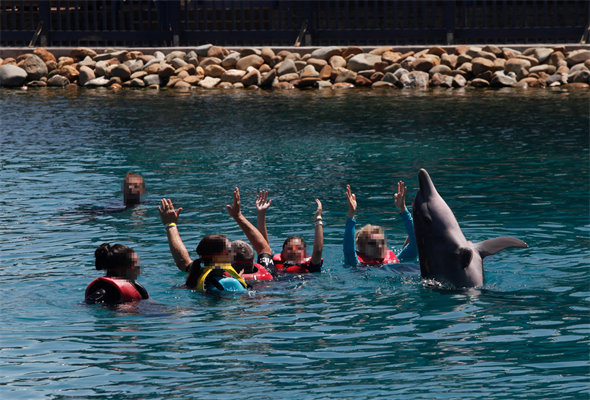 Animal Welfare NGO calls for captive dolphin breeding ban in QLD
13 March 2019: Global animal welfare NGO, World Animal Protection is calling on the Queensland Government to ban captive dolphin breeding at Sea World.

For broadcast quality video and high-res images, please visit the Multimedia News Release:
http://news.medianet.com.au/world-animal/new-report-tail-suffering-captive
With 30+ dolphins, Sea World on the Gold Coast is one of only two captive dolphin venues left in Australia and one of the biggest in the world. Unless the Queensland Government bans captive dolphin breeding, there will be nothing to stop Sea World from breeding more dolphins, who can endure up to 50 years of captivity.

Community acceptance of keeping dolphins in captivity is declining and the long-term viability of venues like Sea World is poor. Many jurisdictions in Australia and overseas have already banned captive dolphin venues, while travel companies are starting to distance themselves. Breeding more dolphins that will live up to 50 years in these circumstances is unjustifiable.

The petition follows the release of the 5th edition of the Case Against Marine Mammals in Captivity report – a damning global portrait of the behind-the-scenes cruelty of zoos, aquariums, and marine theme parks that trade and exploit captive marine mammals for entertainment.

Ben Pearson, Senior Campaign Manager for World Animal Protection said; "We want these dolphins at Sea World to be the last generation kept captive in Queensland. No more dolphins should be given a life sentence in captivity simply to entertain tourists."

"Captive dolphins live for up to 50 years. That's a long time for intelligent animals to spend in a small, barren pool."

In the wild, dolphins swim up to 100km in a day and deep dive hundreds of metres. A life in captivity is a world away from the life dolphins would have in the wild. There's simply no way to replicate these conditions in captivity.

"For tourists keen to see dolphins our advice is simple, see them in the wild where they belong. If you can swim, take a selfie or watch a wild animal perform in a show its cruel and you should avoid it."
"The travel industry is a key source of demand for captive marine mammal parks. We're calling on travel companies to stop supporting animal cruelty by reviewing the way they promote and sell tickets to Sea World," Mr Pearson added. "At the very least, we'd like to see a disclaimer on their websites that makes it clear they do not support captive wildlife entertainment".

"As the tide turns against keeping marine mammals in captivity for entertainment, the conversation about what will happen to these dolphins needs to start now. We're asking the Queensland Government and Sea World to begin investigating the possibility of a sea sanctuary to allow the dolphins to live out their lives in a more natural habitat while balancing the impact on the natural environment.

"This is a conversation we're already having with Dolphin Marine Conservation Park in Coffs Harbour and it's time for Sea World to step-up," Mr Pearson added.
Notes to Editors


For more information, photos and videos or to arrange an interview please contact Fran Kearey on 0434873957 or fkearey@worldanimalprotection.org.au
For Images and Broll are available
World Animal Protection has been working to educate the public on the problem of keeping marine animals in captivity since 1991.
The Animal Welfare Institute (www.awionline.org) is a nonprofit charitable organization founded in 1951 and dedicated to reducing animal suffering caused by people. AWI engages policymakers, scientists, industry, and the public to achieve better treatment of animals everywhere – in the laboratory, on the farm, in commerce, at home, and in the wild. Follow us on Facebook, Twitter and Instagram for updates and other important animal protection news.
World Animal Protection (formerly known as the World Society for the Protection of Animals) has moved the world to protect animals for the last 50 years. World Animal Protection works to give animals a better life. Its activities include working with companies to ensure high standards of welfare for the animals in their care, working with governments and other stakeholders to prevent wild animals being cruelly traded, trapped or killed, and saving the lives of animals and the livelihoods of the people who depend on them in disaster situations. World Animal Protection influences decision makers to put animals on the global agenda, and it inspires people to protect animals and to change animals' lives for the better. More information on World Animal Protection can be found at: worldanimalprotection.org.au
912677