Ange Postecoglou to launch new book on Australia's football relationship with Asia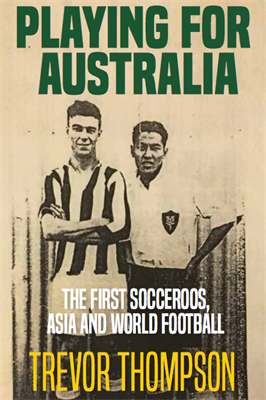 10 December 2018
As Australian football fans count down to the defence of the Asian Cup, which gets underway in the United Arab Emirates next month, a new book sheds light on the history between the national team and the Asian region.
Playing for Australia – the First Socceroos, Asia and World Football, is the second book by retired ABC journalist, Trevor Thompson.
It shows that, although Australia didn't join the Asian Football Confederation until 2006, the relationship between Australian football and its Asian counterparts dates back almost 100 years, and Australia's international football connections are even older.
The book also compares Australia's experience with other paths taken by football's leading nations in the Asia Pacific region.
"The Australian football story stretches back more than 150 years through the presence of Australians at the birth of the modern game in England. British migrants established football in Australia, and the game grew with the arrival of more immigrants who became players, spectators and officials," Thompson says.
"But when the time came for the Australian game to find its own identity, and to express it through its national team, the Anglo-Australian relationship failed."
Instead, it was Asia that played a key role in the development of Australia's national team in its first two decades - and Australia played a significant role in Asia.
Thompson shows that at the end of the 1920s, Australia had some of the strongest football teams at national and club level within the Asia Pacific region, but lost its way by reliance on English leadership of the game, rather than forging its own identity.
"Australia's future is intimately bound to Asia in football as in so many other aspects of life," Thompson writes.
Even so, and despite being reigning Asian champions from the 2015 continental championships, Thompson says there is a cultural gap between Australia and its Asian football neighbours.
He also argues that, as Australia enters a decade of centenaries of important events and dates in the development of the game, the opportunity should be taken on and off the field to build better relationships with football partners, especially in Asia.
Thompson shows that Australia's football pioneers punched above their weight and helped ensure that football culture and multiculturalism are intrinsic to one another.
"When it comes to football and Australia's national teams, football understands what it means to be playing for Australia."
With the help of relatives of Australia's pioneer football families, and meticulously researched through archives in Australia, Japan, Singapore, China, Hong Kong, Indonesia New Zealand, England, France and FIFA, Thompson's book is a must read for anyone interested in sports history, football history, or Australia's engagement with Asia.
It is published by Fair Play Publishing and is available from Fair Play Publishing or via Amazon in print and digital formats.
*****
Note to media: Playing for Australia - the First Socceroos, Asia and World Football by Trevor Thompson will be launched by former Socceroos coach, Ange Postecoglou, at Gleebooks in Glebe, Sydney, at 6.30pm on Wednesday 12 December. Media are invited to attend for interviews with Trevor and Ange.
Further information: Trevor Thompson, 0410 628 047, or Katie Mack at Fair Play Publishing, 0432 64 77 29.
909342