A You-Are-Welcome-to-China Message in World Square -- Letter of Invitation from the 2nd China International Import Expo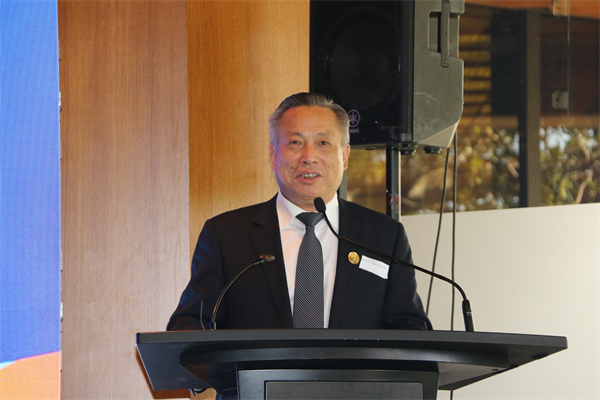 SHANGHAI, China, Dec. 7, 2018 /Xinhua-AsiaNet/--
For two days now, a video footage has been posting an E-letter of invitation from China on the super-screen in the Sydney World Square. The message is about a promo-demo on the road which is coming to town in Sydney on 6 December, 2018, when Australian enterprises and entrepreneurs are invited to take part in the second China International Import Expo (CIIE).
A fresh feedback from the inaugural CIIE is that Australian enterprises and entrepreneurs have signed off in China an intentional amount of 2.4 billion U.S. dollars worth of exports to China of goods and services.
The deputy director of CIIE Bureau, Liu Fuxue, has briefed the Sydney road show about the smooth and successful conclusion on November 10 of the inaugural edition of CIIE which has brought about plentiful outcomes. On a floor space of over 10,000 square meters scattered 116 Australian enterprises including such well-known businesses as Metcash, Australia Post, Swisse and Blackmores. It was through the first CIIE that some Australian brands have made their China debuts and some have started their inroads into the Chinese market. Of the signed intentional total, there are Australia-China cooperation agreements on tourism, resources, infrastructure, e-commerce and logistics as well as purchasing and procurement accords for dairy and meat products, beverage, wine and liquor. As the deputy director puts it, "The extensiveness and diversifiedness of signed agreements and accords bode well for the cooperative potentials of the two countries."
Data show that for eight years on end China has been the largest market for Australian exports of services, especially since 2015 when the China-Australia Free Trade Agreement came into force to have boosted bilateral trade into trail-blazing advancement. The year 2017 has seen Australian exports to China grow by over 20%. Both countries have witnessed the great potentials in cooperation in such areas as energy and mining, agriculture, renewable energies, healthcare and caring for old-aged people. In recent years, Australian healthcare products, cosmetics, beef, dairy products and wines are getting widely popular in China. Along with China's transition toward a consumption-driven economy, a wider scope of cooperation in more areas has availed itself to the two countries. What's worth special mentioning is the fact that most Australian exports to China will start enjoying zero-tariff treatments starting in early 2019. It is against this backdrop that the China International Import Expo will offer and provide more tangible and tenable cooperation and business opportunities for Australian enterprises and entrepreneurs.
Consul General of the Consulate-General of China in Sydney,Gu Xiaojie said: "Australia's presence at the first CIIE was very strong. Australian Trade Minister the Honourable Simon Birmingham led a delegation to the Expo. Over 200 Australian brands were showcased, making Australia the third largest in terms of the number of products and the sixth largest in terms of the number of exhibitors. Eleven commercial agreements between Australian and Chinese companies worth almost $15 billion were signed, spanning across a range of sectors including tourism, resources, infrastructure, e-commerce and logistic services."
As is known to the press, the Australian government believes in the great potentials of the Chinese market as demonstrated by the Australian performance in the inaugural exposition. Australia expects to benefit from the CIIE platform to get more goods and services into the Chinese market for a win-win scenario.
The China International Import Expo is a gift presented to the world by an open and opening-wider China.
The CIIE is the world's first ever exposition specializing in imports of goods and services. The annual event has kicked off in 2018, with a theme of "New Era, Shared Future". During the November 5-10 inaugural expo, upwards of 3,600 exhibitors hailing from 172 countries, regions and international organizations have displayed their products and service capabilities over a combined floor space of 300,000 square meters. Over 400,000 purchasers have talked and negotiated during the expo which has witnessed enterprises from over 130 countries and regions to have signed off 57.8 billion U.S. dollars for a per-square meter sub-total of 210,000 dollars.
China now is the world's second largest economy, the second largest importing and consuming economic entity. China is currently transforming from fast growth to quality development and therefore has enthused demands for quality and specialized goods and services. In the five years to come, according to Liu Fuxue, China is set to import well over 10 trillion U.S. dollars worth of goods and services. All countries have their respective advantages, specialties and competitiveness to access with their goods and services the Chinese market with a population of 1.4 billion. China will provide foreign and overseas enterprises attending the CIIE exposition with top-level services and facilities. Exhibitors are also expected to witness the openness and the attractiveness of the Chinese market. "The China International Import Expo is a gift presented to the world by an open and opening-wider China," says Liu Fuxue.
With the China International Import Expo, China has demonstrated its sincere willingness to open further its market for the world. So the exposition itself is an opportunity for foreign and overseas enterprises and businesses to enter the country, apart from exhibiting their respective strengths and round-tabling cooperation details in economy and trade. "I hope the China International Import Expo will assist liberalizing and facilitating international trade and investment, joining efforts in baking a bigger still global trade cake, and contributing toward the construction of a more dynamic, open and inclusive globalized economy," adds the deputy director of CIIE Bureau.
Application for the second China International Import Expo has begun on 1 July 2018, with a deadline now set for 30 April 2019.
According to Liu Fuxue, well over 30,000 square meters of exposition floor space have already been signed up by many exhibitors with Australian enterprises included, while many many more are negotiating their exhibiting details. Aspiring Australian enterprises and entrepreneurs are therefore advised to apply as soon via the CIIE official website at http://www.ciie.org.
In the meanwhile, Promotion for the second CIIE exposition has started, with another troupe traveling to New Zealand for another such tour show.After Australia and New Zealand, the CIIE promo-demo troupe will hit the road leading further to Indonesia, the United States, Panama and Brazil.
The CIIE promo-demo road show in Sydney is co-organized by the China International Import Expo Bureau and National Exhibition and Convention Center (Shanghai). It gets the support of the Embassy of the People's Republic of China in Australia, the Chinese Consulate-General in Sydney, the Chinese Consulate-General in Melbourne, the Chinese Consulate-General in Brisbane, the Chinese Consulate-General in Perth, the Chinese Consulate-General in Adelaide, the Australia-China Chamber of Commerce, the South Australia Government and the New South Wales Government. Three Australian enterprises have shared their experience and outcome gathered from the inaugural CIIE exposition. Present at the Sydney road show are over 100 representatives from the Australian political and business circles and the media outlets.
Source: CIIE Bureau
909307