Community & Environment
|
Green Frog Systems Pty Ltd
Green Frog Systems Customers Battery Recycling Scheme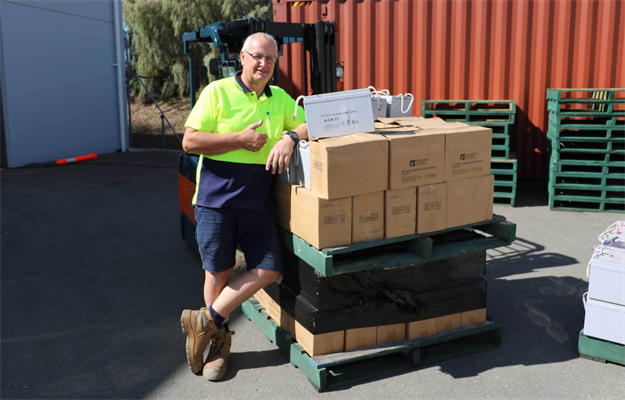 Green Frog Systems are an environmentally responsible business in line with our focus on light and energy storage solutions operating on renewable energy. To further enhance the communities' efforts on reducing unnecessary landfill, we are proud to be launching our "battery take back scheme" in what we believe is a first of this kind for an Australian solar lighting manufacturer.
Each year, a staggering 8,000 tonnes of battery waste ends up in landfill, risking our wildlife and the broader environment.
That's why Green Frog Systems offers a 'back to base battery return scheme' for those batteries distributed with our range of solar powered street lights and solar energy storage systems.
By returning used batteries from any of our solar street lighting kits back to Green Frog Systems, or any of the other ABRI members (Australian Battery Recycling Initiative), you will be doing your part to reduce the thousands of tonnes of batteries that end up in landfill each and every year.
Green Frog Systems 'back to base battery return scheme' demonstrates our leadership and commitment to sustainable resource use, climate change mitigation, protection of biodiversity and ecosystems. This also complies with our international quality accreditation ISO 14001:2015 and PAS 99:2012.
How does the battery recycling scheme work?
Either drop your used batteries from any one of our GFS-200, GFS-400 or GFS-200/300/600 solar energy storage systems back to Green Frog Systems Head Office at 51 Langford St. Pooraka, South Australia 5095 or, for other locations across Australia contact one of the other ABRI members listed below.
The ABRI or Australian Battery Recycling Initiative is a not-for-profit association established in 2008 to promote responsible environmental management of batteries at end of life.
The following ABRI members provide a collection and recycling service for used automotive and other lead acid batteries. Contact the company or check their web site for details.

If you are a commercial business or if you have a large number of batteries, you can arrange for collection and recycling of used batteries through the following ABRI members (with a fee for service).
ABRI MEMBERS

Envirostream Australia Pty Ltd

Tel: 03 9357 5346
www.envirostream.com.au
info@envirostream.com.au

Infoactiv Group Pty Ltd

Tel: 1800 489 278
info@ecoactiv.com.au
www.ecoactiv.com.au/batteries

MRI (Aust) Pty Ltd

Tel: 03 9303 1814
will@mri.com.au
www.mri.com.au
Download a list of MRI's branches­

Sims Recycling Solutions

Tel: 02 8708 2015
mark.hughes@simsmm.com
http://www.simsrecycling.com



BATTERY WORLD

Tel: 13 17 60

CENTURY YUASA BATTERIES PTY LTD

Contact: National Recycling Coordinator

Tel: 07 3361 6161

info@cyb.com.au

EXIDE BATTERIES

Tel: 1800 800 811

MARSHALL BATTERIES

Tel: 1300 627 742

R&J BATTERIES

Tel: 1300 769 282

Frequently Asked Questions


Question: Is the Battery Recycling Service Free?
Answer: Yes. This service is totally free for our clients nationally and applies to any of our GFS-200, GFS-400 & GFS 200/300/600-ESS Solar Energy Storage unit batteries. These are the sealed AGM gel type batteries.

Question: Does Green Frog Systems pay freight charges to return batteries?
Answer: No. Presently this is a 'back to base' offer only.

Question: Why are we offering this Service?
Answer: Unlike Europe, there is no compulsory battery-recycling program for batteries in Australia. As such, over 300 million batteries end up in landfill each year. See here [ Battery regulations around the world ]

Question: Will this service be available in my location?
Answer: You can return the batteries 'back to base' at the Green Frog Systems Head Office, located at 51 Langford St. Pooraka, South Australia 5095 or contact one of the other ABRI members listed.

Question: Where can I recycle other battery sizes?
Answer: Customers wishing to return other battery sizes (including Coincell, Lantern batteries and Mobile Phone Batteries) should visit The Planet Ark Recycling Near You website RecyclingNearYou.com.au

Question: Can I bring back any brand of batteries even though I did not buy them from Green Frog Systems?
Answer: No. Our Battery Recycling Program is only available for batteries obtained with a Green Frog Systems branded product at this stage.

Question: Is there a limit to the number of batteries I can return at one time?
Answer: No. You are welcome to return as many batteries as you want provided they are from Green Frog Systems solar street light / solar energy storage products.

Question: What happens to the batteries after they get collected?
Answer: The batteries are collected by one of our specialist recycling partners, sorted and returned to recycling plants that extract reusable materials for recycling.

To find out more information regarding this scheme, visit www.greenfrogsystems.com.au

-End-

About Green Frog Systems

Green Frog Systems are leaders in Smart Solar Lighting solutions. Established in Australia 2011, the company designs and manufactures quality solar street and pathway illumination systems with installations across Australia and overseas. GFS is committed to the continual development of leading edge, sustainable solar lighting and energy storage advancements.

Our mission is to provide our clients with high quality solar lighting solutions that enhance the safety, security and accessibility of public spaces without mains power or costly infrastructure projects.

The increasing demand for environmentally friendly, renewable energy solutions has enabled Green Frog Systems to expand operations into the USA, New Zealand and the UK, with clients across Government, mining, oil & gas, industry and commercial sectors; a testament to the quality of the company's solar light products.

Media Contact: Green Frog Systems Group Marketing Manager, Nguyen Biszak, +61 8 7200 3909 or nguyen.biszak@greenfrogsystems.com.au
909192