Ahmadiyya Muslim Community
Ahmadi Muslims to commemorate the 100th Anniversary of WWI Armistice across Australia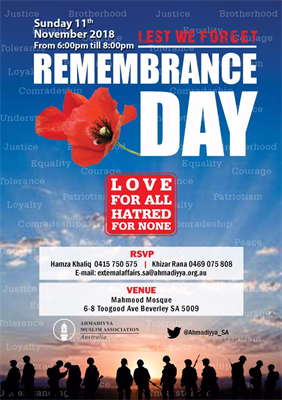 This year marks the 100th Anniversary of the WWI armistice. To pay tribute to the brave men and women who made
the ultimate sacrifice, the Ahmadiyya Muslim Community, Australia will be hosting special Remembrance Day programs
across all their mosques on the 11th November 2018. Members of the community will also be helping the Returned and
Services League (RSL) with their poppy appeals to raise funds to support veterans and their families.
The National President and Grand Imam of the Ahmadiyya Muslim Community Australia, Mr I. H. Kauser said:
"Every year, Remembrance Day reminds us all of our responsibilities to work together for peace in society.
The Ahmadiyya Muslim Community across Australia will bring religious, secular and political leaders
together, and invites all members of the community in commemoration of the comradeship, patriotism
and loyalty of our servicemen and women. Let's come together for the start of a new era. As the sun of a
new era dawns upon us, let us renew our hope for peace all over the world. A world filled with peace, love,
hope, prosperity and care."
In Adelaide, the event will be held at Adelaide's largest mosque, Masjid Mahmood, from 6pm to 8pm. A
bout 200 people are expected to attend the event including community and RSL members, councillors, parliamentarians
and other religious leaders.
Media Contact: Muneeb Janud 0433 072 470
About the Ahmadiyya Muslim Community:
The Ahmadiyya Muslim Community is a very peaceful, law abiding, nonviolent and loving community. Founded in 1889, the Community spans more
than 200 countries with membership exceeding tens of millions. It is the leading Islamic organisation to categorically reject terrorism in any form. It
continues to be an advocate for universal human rights and protection for religious and other minorities. It champions the empowerment and
education of women. Its members are among the most law-abiding, educated, and engaged Muslims in the world. For the official website of the
Ahmadiyya Muslim Community Australia, please visit: www.Ahmadiyya.org.au |or Email: Media@Ahmadiyya.org.au | Twitter: @AhmadiyyaAUS
907817