Mitchell Creek Rock'n'Blues Festival
Female Blues Acts Dominate Mitchell Creek Rock'n'Blues Festival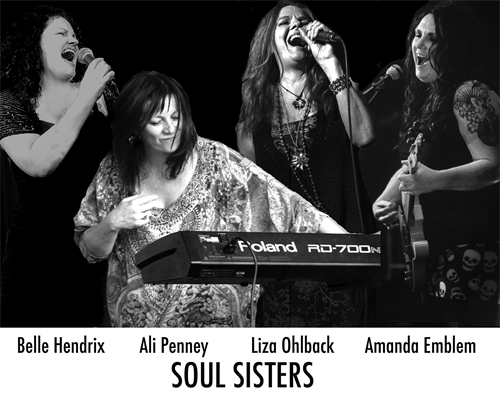 Media Release, Thursday 13 September, 2018
Mitchell Creek Rock'n'Blues Festival boasts a large Female Line Up & World first Bush Volleyball Competition
While festivals, events, political parties and big business across Australia are trying to figure out how to achieve gender equality, a boutique rock and blues festival in South East Queensland has been leading the way since it's inception in 2012 as part of the norm.
Now in it's Seventh year, Mitchell Creek Rock'n'Blues Festival is thriving, simply by doing what they do well and continually enhancing the camping and festival experience year after year in their unique and beautiful location in the Mary Valley, two hours from Brisbane. In 2018, 60% of the acts feature female artists!
Legendary Australian Soul performer, Renee Geyer is one of the main headliners this year and a large selection of emerging and establish females lead the charge throughout the weekend. Returning due to popular demand is International touring band Hussy Hicks along with Minnie Marks and her band.
The festival kicks off at midday on Friday 21st September with four superb emerging female fronted acts, one after the other. All eyes will be on Melbourne singer Stella Angelico who performs with internationally renowned band "Cooking with Three Burners" at 8pm. Stella's retro vocal stylings and unique delivery is anticipated to impress the pants of the 3000+ audience who are hungry for new interesting up and coming Aussie talent.
Of special interest is an act formed under the direction of the organiser Jimmy Budgen. The superstar female fronted act, named the "Soul Sisters", features the cream of the Australian Blues Scene with Three Chain Award winners, Liza Ohlback, Ali Penney and Belle Hendrix with the addition of newcomer Amanda Emblem joining the band on vocals and bass guitar. This is the third year that the Soul Sisters have come together especially for the festival, initially performing their set on a Sunday Morning. This year the ladies will perform an additional set, in prime time on Saturday afternoon, due to popular demand.
Mitchell Creek Rock'n'Blues fest features over 150 artists over three days in the Rock and Blues genres. The event appeals to a wide cross section of audiences but mostly caters for a returning loyal crowd, ensuring the events longevity and growth every year. The community built around the festival is a large part of it's ongoing success. It's a family friendly event, with a secure kids area and for the first time this year a Bush Volleyball Competition is being held, run by Australian Volleyball Icon Shannon Zunker
The "Bush Volleyball" competition is a world first. 62 tonnes of Mary River sand has been shipped on site to build the olympic size court which will host not only the competition but also kids coaching sessions and exhibition games with professional Volleyballers. The buzz about the competition is huge and eight teams have already entered to win free entry into next years event and a massive trophy.
Mitchell Creek Rock and Blues Festival is 21 - 23 September. A limited amount of tickets will be available at the gate or can be purchased on the website www.mitchellcreekrocknbluesfest.com.au
Event footage from the 2017 event is available on request.
Check out the website www.mitchellcreekrock'n'bluesfest.com.au
For more information about Mitchell Creek Rock'n'Blues Festival, full line up, playing schedule or media pass or interview requests contact
Kylie Cowling
Publicity/Promotions
Mitchell Creek Rock'n'Blues Fest
mitchellcreekpromotions@gmail.com
Mob 0430453043
Jimmy Budgen
Festival Director
info@mitchellcreekrocknbluesfest.com
904526