Technology & Innovation
|
Aussie cyber security startup ThreatDefence wins Consensus Award, follows Atlassian's footsteps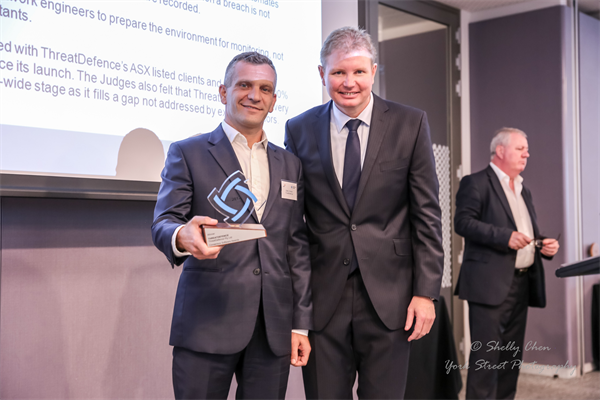 FOR IMMEDIATE RELEASE
Contact: Zlatko Hristov
Phone: 1300 122 434
Email: zlatko@threatdefence.com
16 January 2018
Head:
Aussie cyber security startup ThreatDefence wins Consensus Award, follows Atlassian's footsteps
SYDNEY, NSW, 16 January 2018 – ThreatDefence, a small Australian online security firm, has taken top prize at the Consensus Software Awards.
The awards, famous for predicting global Aussie technology success stories, were presented at One International Tower, Sydney, on 18 December 2017.
ThreatDefence CEO Zlatko Hristov accepted the overall 2017 Consensus Software Award from Assistant Federal Minister for Industry, Innovation & Science Craig Laundy.
In announcing the winner, Consensus founder and CEO Julian Day said the judges were "very, very impressed" with what ThreatDefence has achieved.
"It is an IT security monitoring system that resolves many issues with the current market offerings," Mr Day said.
"It automates threat detection and provides 100 percent network accountability. It just takes 1 hour for network engineers to prepare the environment for monitoring.
"[We are] very impressed with the fact that it's already got some ASX-listed clients and the fact that it has a 100% retention rate already since its launch.
"Congratulations to ThreatDefence – well done!"
Speaking after the ceremony, ThreatDefence CEO Zlatko Hristov says the award is an affirmation of all the hard work his team has done.
"It is so great to receive this award. It's an amazing recognition of what we've built," Mr Hristov said.
"We saw a new and better way to monitor cyber security. We chased that goal and now it's become a reality."
The judge's citation for ThreatDefence's unique offering reads: "It is able to monitor anything, provides rapid deployment and has many unique features that the current market offerings lack.
"The Judges also felt that ThreatDefence has a very high potential on the world-wide stage as it fills a gap not addressed by existing vendors."
In a statement before the ceremony, Australian Prime Minister Malcolm Turnbull, who presented the Consensus Awards in 2011 and 2012, noted that a win here can be the marker of much bigger things to come.
"The Consensus Awards have a great track record of celebrating some of the most cutting-edge and innovative Australian tech companies, counting world-famous firms Atlassian and WiseTech Global as former recipients," Mr Turnbull said.
"I have no doubt that this year's recipients will follow in their success."
Mr Hristov says ThreatDefence's ambition is to do just that.
About ThreatDefence
Founded in 2016, Sydney-based ThreatDefence offers organisations of any size a similar cyber security monitoring approach as used by the world's largest corporations.
This capability is delivered via a plug&play device that can be set up in few minutes.
Through this device, ThreatDefence offers built-in security tools, automation and services.
ThreatDefence makes it simple and affordable for organisations to monitor cyber security or any other data and then combat the weaknesses that plague enterprises, including:
Vulnerable systems

Misconfigurations

Broad security controls

Unknown malware activity

Poor network visibility.
Through simple-to-use, real-time dashboards users gain unprecedented visibility into their networks and systems within minutes.
ThreatDefence's solution will expose weak areas and uplift monitoring capabilities to bank-grade quality in minutes. To date, no other tool or solution can do this.
About the Consensus Software Awards
Consensus is an organisation committed to supporting Australian and New Zealand innovation and enterprise and provides development pathways and tools for growth.
Since the first awards in 1999, 89 percent of Consensus winners have gone on to be highly successful globally. Most notable is Atlassian, which won in 2004 and now has a market cap of more than US$10 billion.
[END]

Caption:
SSC_8657-1 medium.jpg
ThreatDefence CEO Zlatko Hristov (left) accepts the 2017 Consensus Software Award from Assistant Federal Minister for Industry, Innovation & Science Craig Laundy. (Consensus CEO Julian Day in background.)



Links:

892272