Madrid art collective's human rabbits to take Melbourne by storm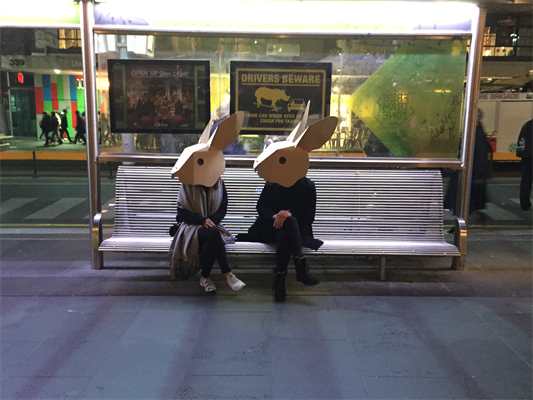 On Friday 28 July, from 12-2pm, 50 human rabbits will invade downtown Melbourne.

The hybrids will walk the streets and laneways of the city scattered or in herd, wearing big rabbit cardboard-heads on their shoulders. They will walk fast, and suddenly stop from time to time, often looking sideways.
This thought-provoking street action is designed specifically by the Madrid-based mmmm… art collective to be held to coincide with the eponymous exhibition mmmm… their first retrospective, opening at RMIT Gallery on 21 July.
Spanish art collective mmmm…has been producing art in public spaces since 1998, and now it's Melbourne's turn.
mmmm… are the first to admit the world has changed in the past 18 years. The Madrid-based collective are used to provoking the public with their amusing, quirky and intriguing projects. But letting loose 50 human rabbits in Melbourne's CBD is not without its challenges.
There are 205 temporary bollards around the CBD, installed as anti-terror measures, designed to prevent the type of vehicle-based attack seen overseas and in Melbourne's Bourke Street mall. While artists have taken to covering them with colourful material and graffiti art, the bollards remain a reminder of safety issues in our cities.
"We don't want to scare people, given what is happening around the world in public spaces, but we are aware that after the Bourke Street mall incident at the beginning of the year, people are wary of unusual actions on the streets," said mmmm… member Ciro Marquez.
"In Australia, rabbits have negative connotations of invasive animals that destroy the local ecosystem, but universally rabbits are seen as cute and cuddly animals, and are considered pets in many countries. These contradictory associations, negative and positive, openly reflect with a touch of humour about the concepts of immigration, invasion, group, and identity," Marquez said.
mmmm… is a collaboration between Emilio Alarcón, Alberto Alarcón, Ciro Márquez and Eva Salmerón, who have been creating projects for public spaces since 1998 from Spain. All collective members will be in Melbourne for the exhibition opening and events.
The exhibition explores 13 very different projects from 2000 to 2016 – including Human Rabbits Action, an intriguing project made specifically for RMIT Gallery – and Melbourne – with the support of the Embassy of Spain in Canberra.
In light of terrorism-related incidents increasing in Melbourne and overseas, what is now the role of public art actions in reshaping cultural landscapes and reclaiming public space in cities?
On Thursday 27 July from 5.30-6.30pm at RMIT Gallery, local performer and academic Dr Mick Douglas (RMIT) will hold a public discussion with the mmmm… collective to explore performance street actions in an age of heightened security and risk.
Who has access to public space? Who can speak and perform within it? Who can claim ownership of public space, and ultimately the ownership of events in the public sphere?
The mmmm…collective will be in Melbourne from 18 July–1 August. They all speak English and are available for interview.
Friday 28 July 12-2pm
Human Rabbits street action through the city
Starting at RMIT Gallery, 344 Swanston Street, at noon
Details http://bit.ly/2twontH
Thursday 27 July 5.30-6.30pm
Street actions in an age of heighted risk
With Mick Douglas (Melbourne performer) and mmmm…collective
details http://bit.ly/2tKWOiR
What: mmmm… exhibition
When: Friday 28 July 12-2pm
Where: RMIT Gallery, 344 Swanston Street, Melbourne
Website: http://bit.ly/2sghWtq
For interviews, photos and general media enquiries: Evelyn Tsitas, evelyn.tsitas@rmit.edu.au or (03) 9925 1716 or 0488 300 525.
Caption: RMIT Master of Arts in Public Spaces students test out mmmm…'s human rabbit masks
882526