Multimedia News Release: 'Dr Google' is here to stay - so how do you do it safely?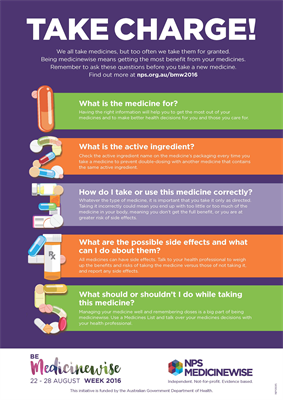 Multimedia News Release
'Dr Google' is here to stay - so how do you do it safely?
Almost four out of five Australians (78%) report that they look for information about medicines on the internet, according to a new 2016 survey* released during Be Medicinewise Week (22-28 August).

For video, images and audio grabs, please visit the Multimedia News Release:
http://news.medianet.com.au/nps-medicinewise/medicinewise-week2016
Three out of five people (58%) admitted they will sometimes or always look up information about health conditions on the internet to avoid going to see a health professional - with this number increasing to almost four in five people (79%) in the younger age category of 18-34 year olds.
This compares to only 1 in 3 people who said in a 2012 NPS MedicineWise survey** that they were likely to search the internet for information about their symptoms before they visited their doctor.
NPS MedicineWise spokesperson and pharmacist Aine Heaney says that finding good medicines information is important, and that being medicinewise means asking questions, asking the right people, and knowing how to source reliable information.
"Having the right information will help you to get the most out of your medicines - and to make better health choices for you and those you care for," says Ms Heaney.
"If you or a loved one become ill, are prescribed a medicine or are referred for a medical test, it's natural to want to know more about the condition or treatment. However, while it is always a good idea to equip yourself with health-related information, it is important to be aware that not all health information you access on the internet will be accurate or reliable. Some might be full of medical jargon and not have plain language statements to explain the information clearly."
"You need to be able to assess the reliability of information found on the internet, and understand limitations of what internet can tell you."
"Take charge of your health and your medicines, and work with your health professionals, such as a doctor, nurse or pharmacist, to better understand your health and any medicines, tests and treatments you might need," says Ms Heaney.
"In addition to your regular health professional, there are services available like NPS Medicines Line (1300 633 424) where you can phone to seek individual medicines information from a health professional, and the weekly Pharmacist Hour on the NPS MedicineWise Facebook page.
"Of course, the health professionals that care for you are a reliable source of health information, but you may not always be able to talk to them. This means you need to play an active role in your health by knowing where to find information about health conditions, medicines, tests and treatments," she says.
NPS MedicineWise and Better Health Channel are good places to start when seeking medicines information online because they are independent and credible websites designed to support you to find information on health conditions and medicines, and are free from commercial advertising or corporate sponsorship.
The survey also showed that one in five Australians (20%) said they would use Facebook to try to find answers to questions they have about medicines.
"Everyone has a unique story about how medicines work, and there is plenty of moral support to be found on social media and online forums, but one person's experience won't necessarily be the same as yours," says Ms Heaney.
"The final decision about what medicine to take should lie with you and your prescriber or other health professional, using personalised advice for your situation."
Be Medicinewise Week is an initiative of NPS MedicineWise and is on from 22-28 August 2016. This year is the sixth annual Be Medicinewise Week, a national awareness week promoting the safer and wiser use of medicines by all Australians. 'Take Charge!' is this year's theme and encourages Australians to have conversations with health professionals about their health to get the most out of their prescription, over-the-counter and complementary medicines, and to seek out evidence-based information to help them make better decisions about their health.
To find out more go to www.nps.org.au/bmw2016
For more information on medicines from a health professional, call NPS Medicines Line on 1300 MEDICINE (1300 633 424). Hours of operation are Monday–Friday 9am–5pm AEST (excluding public holidays).
*The 2016 survey of 1,007 Australian respondents aged 18 and over was conducted online by Galaxy Research in July and August 2016. Full survey results are available upon request.
**The 2012 survey of 1,205 Australian respondents aged 18 and over was conducted by telephone by Newspoll in March 2012.
MEDIA ENQUIRIES
The full media release including additional supplementary data is available on our AAP multimedia news release page.
For interview requests please contact media adviser Stephanie Childs on (02) 8217 9249, 0419 618 365 or schilds@nps.org.au
Source: NPS MedicineWise
864381