AUTHOR, LIZZIE O'HALLORAN, RELEASES NEW BOOK FOR HELPING MUMS COPE WITH MOTHERHOOD AND POSTNATAL DEPRESSION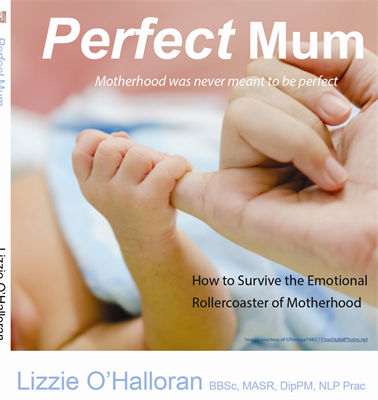 For Immediate Release: August 18, 2016
Contact: Lizzie O'Halloran, 0425 707 947
AUTHOR, LIZZIE O'HALLORAN, RELEASES NEW BOOK FOR HELPING MUMS COPE WITH MOTHERHOOD AND POSTNATAL DEPRESSION
With the recent release of 'Bad Moms' last month it's perfect timing that Lizzie O'Halloran, a mother, author, presenter, Wellness Coach, and Counsellor with extensive experience in self-esteem, health, and happiness cultivation in mums of all phases in the child rearing process, this week announced she has released her next mum self-help book – Perfect Mum: How to Survive the emotional rollercoaster of motherhood.
Written as a guide to help new mums sort their way through the psychological shock and emotional duress that comes with raising a newborn child, O'Halloran wanted to focus on the part of motherhood that starts when a child is born.
"There are so many books, websites, guides, and advice out there for pre-pregnancy, pregnancy, and childbirth. What's missing are books that not only address and provide solutions for the emotions, depression, and overwhelming stress that befall many new mums around the world every single day, but that also provide a voice for mothers who have experienced these issues first hand," said O'Halloran. "My book is targeted to aid these new mums on their quest to raise wholesome and happy children."
O'Halloran manages Selfesteemonline.com.au, an informational and supportive website designed to provide women with the advice, support and insight they need to feel confident raising their newborn children.
"According to PANDA, up to 1 in 10 Australian women experience antenatal depression, and more than 1 in 7 new mums experience postnatal depression each year," said O'Halloran. "Mums often feel embarrassed to ask for help. Perfect Mum provides a theoretically sound resource mothers can access in the privacy of their own homes. Spread the word on the availability of my new self-help book, and head on over to my platform to find a support centre for women looking for the strength they need to raise their children."
Perfect Mum aims to break down the myth of the perfect mother and equip mothers with the tools, techniques, and ongoing support to cope with the demands of motherhood and fragile self-esteem post childbirth. Most of all, it focuses on establishing a sustainable happiness in all mums.
For more information, visit: https://www.selfesteemonline.com.au/products/perfect-mum
863557