GURKHAS ARE HERE!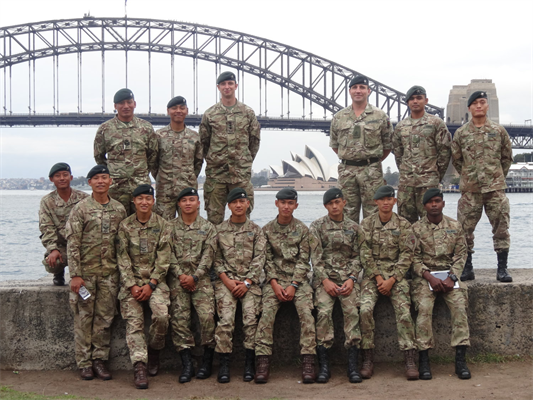 High school students from across Sydney will come together tomorrow (Sunday 21/5/17) to support an important defence partner, whose soldiers' homeland is still recovering from devastating earthquakes in 2015.
8900 people were killed in the earthquakes that struck Nepal and hundreds of thousands of homes and schools were destroyed. Veterans of the elite Royal Gurkha Rifles and their families were among the victims.
On Sunday, students from schools including St Joseph's College, St Scholastica's College and Wenona along with Australian Army cadets and members of the 1st Westmead, 1st Greystanes and 1st Glossodia Venturer Scout Units in western Sydney, will take part in a series of challenges run by serving members of 1Royal Gurkha Rifles and the Australian Army in a fundraising initiative for the rebuilding work underway in Nepal.
Director of the charity, Gurkhas Australia, Chris Hartley says Australian soldiers and members of the Gurkhas have fought side-by-side in many battles over the years and that partnership remains very strong.
"Raising funds for important reconstruction work in Nepal is really a case of mates helping their mates in their time of need – it is but a small way for us as Australians to be able to show our appreciation for the loyalty and support we have received from the Gurkhas over many years since Gallipoli," he said.
The Schools' 'Gurkha Challenge' at St Joseph's College, Hunters Hill, is one of a series of events happening tomorrow and Monday in support of Gurkha veterans.
The soldiers from 1RGR, who have completed military exercises with the Australian Defence Force in Queensland, will begin with honouring current and former Australian servicemen and women by laying a wreath at the Regimental Square War Memorial at 6.30am.
Several members of the 1RGR will then compete in the Sydney Morning Herald Half-marathon team's event, seeking to match their winning result when they last took part in the race in 2015.
A fundraising dinner will be held tomorrow night at St Joseph's College with support from the Governor General and the NSW Governor and will include the British High Commissioner. s from Britain and Nepal.
On Monday (22/5/17), a Corporate 'Gurkha Challenge' will also be held, followed by a fundraising lunch, to be attended by the Nepalese, UK and US Consul Generals.
Further information:
Dr Chris Hartley - 0490 774 244
chris@gurkhasaustralia.com
John A Thompson – 0407 041 041
jt@jt-comms.com
MEDIA FILMING OPPORTUNITIES
Sunday 21/5
6.30am

6.45am

From 7.30am

From 8.00am

9.00am




Gurkhas pay respects and lay wreath at RAR Memorial, Regimental Square, Wynyard

Sydney Morning Herald half marathon starts (Hyde Park)

Half-way relay handover – Gurkha bagpiper playing

Sydney Morning Herald half marathon finishes (Hyde Park). Opportunity to interview Gurkha runners

Prize giving

From 1.00pm

Gurkha Schools Challenge (St Joseph's College Oval, Augustine Street, Hunters Hill)

• Vision of high school students working on a series of leadership challenges with elite Gurkha soldiers and members of the Australian Army

• The challenges includes 12 vehicle Land Rover pull and construction of disaster relief emergency housing to replicate the homes that were destroyed and are now being rebuilt in Nepal

• Interview with school students, Gurkha veterans, Australian Army members, Headmaster of St Joseph's College and Director of Gurkhas Australia, Chris Hartley

5.30pm

Gurkha fund raising dinner (St Joseph's College, Mark Street, Hunters Hill)

• Vision of special Gurkha Kukri knife performance, Gurkha chefs cooking and Gurkha bagpiper

• Address by the former Chief of Army, Peter Leahy, the British High Commissioner, Menna Rawlings, Commanding Officer 6RAR Col Jim Hunter and a Gurkha soldier
Monday 22/5
10.00am

Gurkha Corporate Challenge (St Joseph's College Oval, Augustine Street, Hunters Hill)

• Vision of Sydney business men and women working on a series of leadership challenges with elite Gurkha soldiers and members of the Australian Army

• The challenges includes 12 vehicle Land Rover pull and construction of disaster relief emergency housing to replicate the homes that were destroyed and are now being rebuilt in Nepal

• Interview with participants, Gurkha veterans, Australian Army members and Director of Gurkhas Australia, Chris Hartley

12.00pm

Gurkha fund raising lunch (St Joseph's College, Mark Street Hunters Hill)

• Vision of special Gurkha Kukri knife performance, Gurkha chefs cooking and Gurkha bagpiper

• Address by British Defence Adviser Brigadier Andy Harrison, Mr Doug Baird, the father of Australian soldier Cameron Baird VC, Commanding Officer 6RAR Col Jim Hunter and a Gurkha soldier
879321