LACE-UP FOR THE LOVE OF SPORT WITH #RAINBOWLACES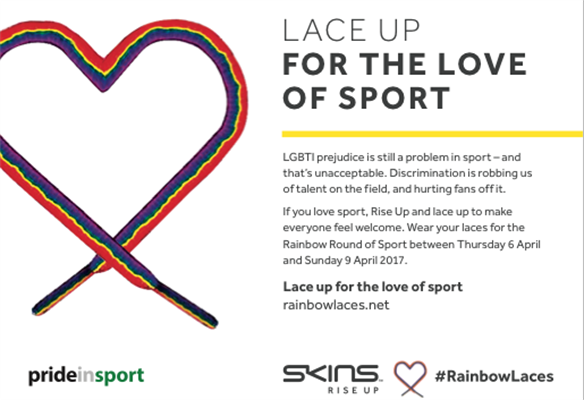 16 February 2017
SKINS, the global compression wear brand that lives and breathes its values, is giving away #RainbowLaces at Mardi Gras Fair Day in Sydney this Sunday as part of its annual campaign.
The second Rainbow Round of Sport will take place from 6-9 April, with all professional sporting codes invited to take a stand against LGBTI prejudice in sport by having their athletes wear #RainbowLaces.
"Sport belongs to everyone and is only at its best when everyone is welcome. There's no place for LGBTI prejudice in sport - or society for that matter," said SKINS Executive Chairman and sports policy activist, Jaimie Fuller.
"What we're aiming to do with our #RainbowLaces campaign, is to raise awareness about these issues, and show our support for inclusivity and diversity, so everyone who participates in a sporting event, either as a player, coach, administrator or fan can feel safe.
"We want everyone to lace-up for the love of sport, and be part of this movement to boot LGBTI prejudice from sport."
Inspired by a similar campaign in the UK that involves football only, SKINS and Pride in Sport have invited the major sporting codes in season – AFL, NRL, A-League, Super Rugby and Super Netball - to show support for the campaign by wearing specially commissioned #RainbowLaces during the Rainbow Round of Sport.
"The major sporting codes have committed to implement the Australian Anti-Homophobia and Inclusion Framework for Australian Sport so this should be a no-brainer for them," Fuller said.
"But we're taking this campaign directly to the sporting community as well and inviting everyone to wear #RainbowLaces.
"As far as we're concerned, the only thing that should matter in sport is how you perform on the field.
#RainbowLaces will be available for free from the Sports Village at Mardi Gras Fair Day at Camperdown Memorial Rest Park in Newtown, from 10am this Sunday 19th February.
Grassroots sporting teams and community groups can also order #RainbowLaces free-of-charge courtesy of SKINS from www.rainbowlaces.net
Corporations can purchase #RainbowLaces direct from Pride in Sport to help provide much-needed funds to support their ongoing work in addressing LGBTI inclusion in Australian sport.
ENDS
Further information: Jaimie Fuller, 0418 242 399
874086