Experience efficiency with our intuitive press release builder. Craft your story, define your audience, use your lists or ours and get to preview your press release to see how it will look in the hands of a journalist.
In this article, you will learn how to:
Set up your content:
Once logged into your Medianet account, click 'Create Press Release' on the top right-hand corner of the homepage and click 'Set up release'.
You can either copy content for your press release from a document and paste it directly into the fields by using the keyboard shortcut, Ctrl V, or you can create it from scratch within the Press Release Builder.
Headline:
Your press release headline will appear in the email subject line of any press release distributions that you send; therefore, it should be short, sharp, and catchy.
Your company / Organisation name:
Enter the name of your organisation or the organisation that you're distributing the press release on behalf of.
Customised introduction (Optional):
Make your press release more memorable with personalised email introductions to individual contacts. This feature can be applied to your own contacts added from 'My Lists' and you can insert any of the following merge data fields into your message: First Name, Last Name, Job Title, City Name, State Name or Outlet Name.
Body content:
Write your story using the inverted pyramid structure where the most important information is at the top of the release and the least important at the bottom. It should touch upon the 5 Ws: who, what, where, when and why (and also 'how'). Where possible, use a quote to add colour or a human angle to your story and include the name and title of the person quoted. Keep in mind that you can use text editing tools to change fonts, text colour, text alignment, insert images or other media, etc., to the body content.
Key facts (Optional):
Consider including a few bullet points to summarise the essential details to make it easy for the journalist to grasp the story and the angle.
Media contact information (Optional):
Journalists reading your press release will need to know who to contact for more details. Include all the relevant contact details for your company's spokesperson with an email or phone number, depending on their preferred contact method.
About us information (Optional):
Add a brief bio of your company to help journalists understand the nature of the business and make writing about it easier.
Images and attachments (Optional):
Increase the impact of your release with attachments of images and videos. We recommend including a high-res image of your logo in your press release, or even better, attach relevant and high-quality images or videos that grab attention and add value to your news story.
Furthermore, you can increase brand recall by adding header and/or footer images. You can create your own custom image in minutes with our collection of free, professional email header designs, or if you have an existing image you wish to use, we recommend applying a 6:1 aspect ratio with 1200 px (width) and 200 px (height) dimensions.
Remember to click 'Save' along the way to ensure you don't lose your work.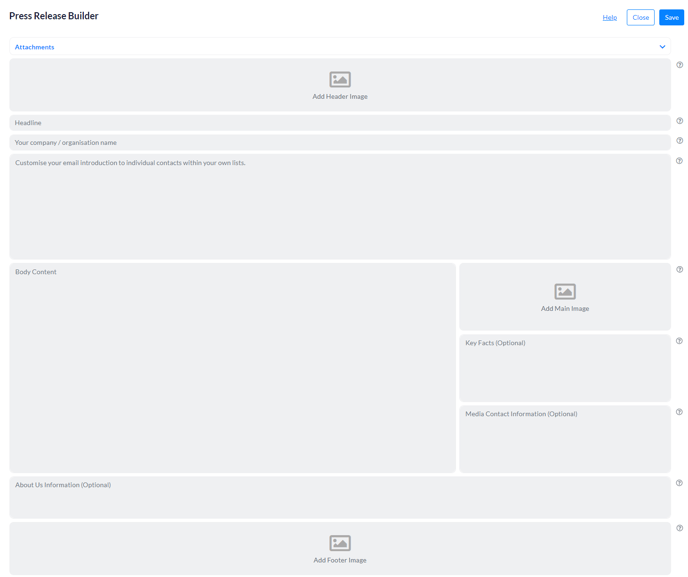 Schedule your press release
Scheduling your release in advance allows you to send it at the perfect time to gain optimal media attention.
To set the category, hold, embargo status and other release details:
Click on 'Set Schedule Details' within the Press Release Builder
Select one to two categories that best match your release content
Select the send time as either 'ASAP' to publish immediately or 'Hold Until' to specify the date and time you would like to schedule the distribution of your release
Set the embargo as either 'None' to allow journalists to publish your story immediately or 'Embargo Until' to specify the date and time you would like to withhold it until. Please note that your press release will be distributed via email, news feed and Medianet's journalist platform at the 'Send time'. Posting to public websites, syndicated websites, and social media will be withheld until the embargo is lifted
You may include a Customer Reference as required (optional)
If you would like the release to appear to come from your organisation (instead of Medianet), you can opt to add the text 'On behalf of' in front of your organisation's name, which will appear in the 'email from' field by checking the box
Once all required fields are complete, click 'Save'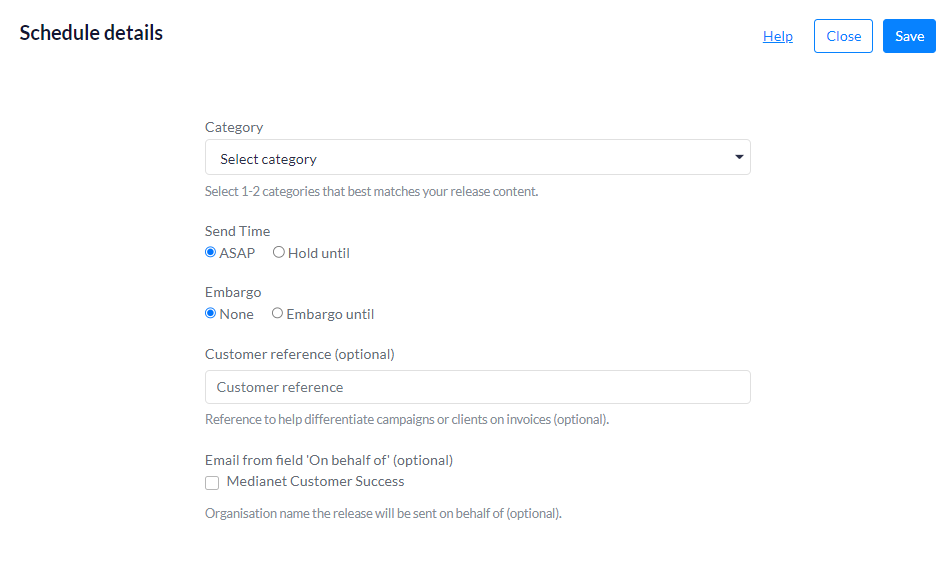 Read this blog article to learn more about embargoes and how to use them effectively.
Select your target audience:
Use Medianet's tailored lists and data-rich journalist bios to make sure your press release reaches all the right people.
To add recipients to your press release, click on 'Set Audiences' within the Press Release Builder.
Medianet Lists: To save time on researching media contacts and creating targeted lists, you can leverage any of Medianet's 200+ ready-to-use distribution lists, which consists of journalists and outlets specialising in the topics you have chosen. You can select a list based on various different categories by browsing, searching, or selecting from the drop-down options.
My Lists: To select from a record of all of your own saved lists built using the Contacts Database. Note that you will need to be on a Starter, Pro, Enterprise or Insights+ subscription plan to be able to create and distribute to your own lists.
Individuals: To add individual contacts by entering single email addresses.
Recent: To save time, you can choose from a record of all your recent lists. You can also search for it by typing in the search bar.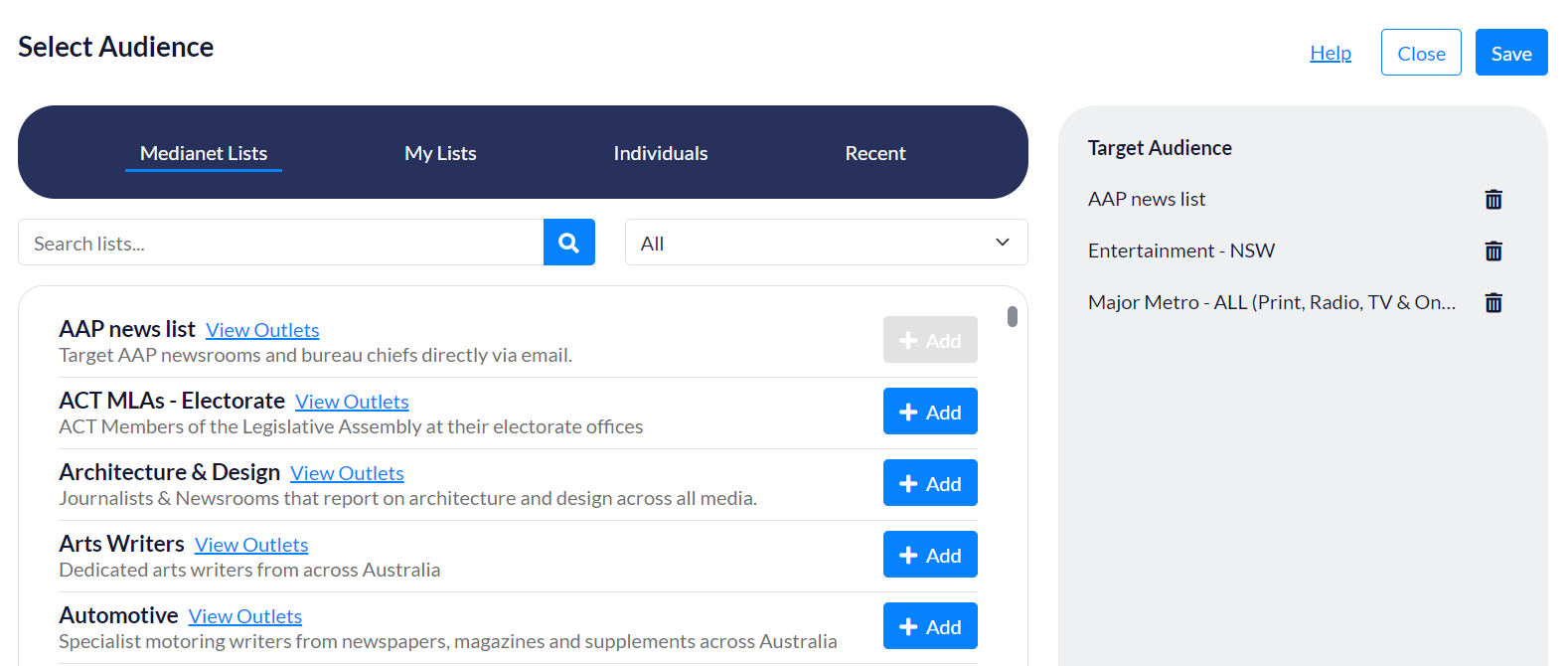 Expanded Distribution:
Medianet broadens your reach with our exclusive partners and online channels.
To set up the online platforms and channels for your press release, click on the 'Expanded Distribution' button within the Press Release Builder. You will find that all options are already included by default at no extra cost; however, you can individually remove any of the options from the 'Selected Channels' column on the right by simply clicking the bin icon.
News Corp news feed - Medianet enables you to send your content directly to News Corp Australia via a news feed.
News Hub - News Hub is Medianet's public archive of press releases. Reach a broader audience beyond email lists by posting to the News Hub, which attracts thousands of unique visitors each week.
Website Syndication - Your release hosted on 13 domains under News Corp mastheads, including The Australian, The Daily Telegraph, Herald Sun, The Courier Mail, The Advertiser, Mercury, NT News, Townsville Bulletin, The Cairns Post, Gold Coast Bulletin, The Chronicle, Geelong Advertiser and news.com.au.
Medianet for Journalists - Promote and archive your content to Medianet for Journalists, Medianet's dedicated editorial resource for finding press releases and pitches.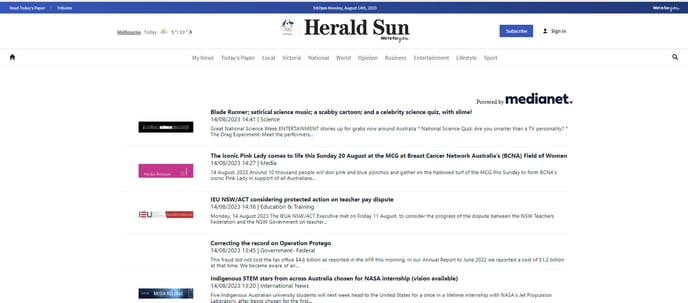 International Distribution:
Propel your message globally and get your stories told around the world. Medianet has over 100 destinations globally, including translation into local languages and reporting. Contact us on 1300 616 813 or team@medianet.com.au for the complete list of options.
Please note that international distributions will be processed and invoiced separately. The Medianet team will contact you to discuss the details of your order.
Editing your saved draft press release:
Keep your work safe by saving your press release as a draft until you are ready to submit it. All unsent saved draft press releases can be found on your homepage under 'Drafts' and will be visible to all active users on your organisation's account. To edit these, click on the pencil icon or click on the bin icon to delete the draft.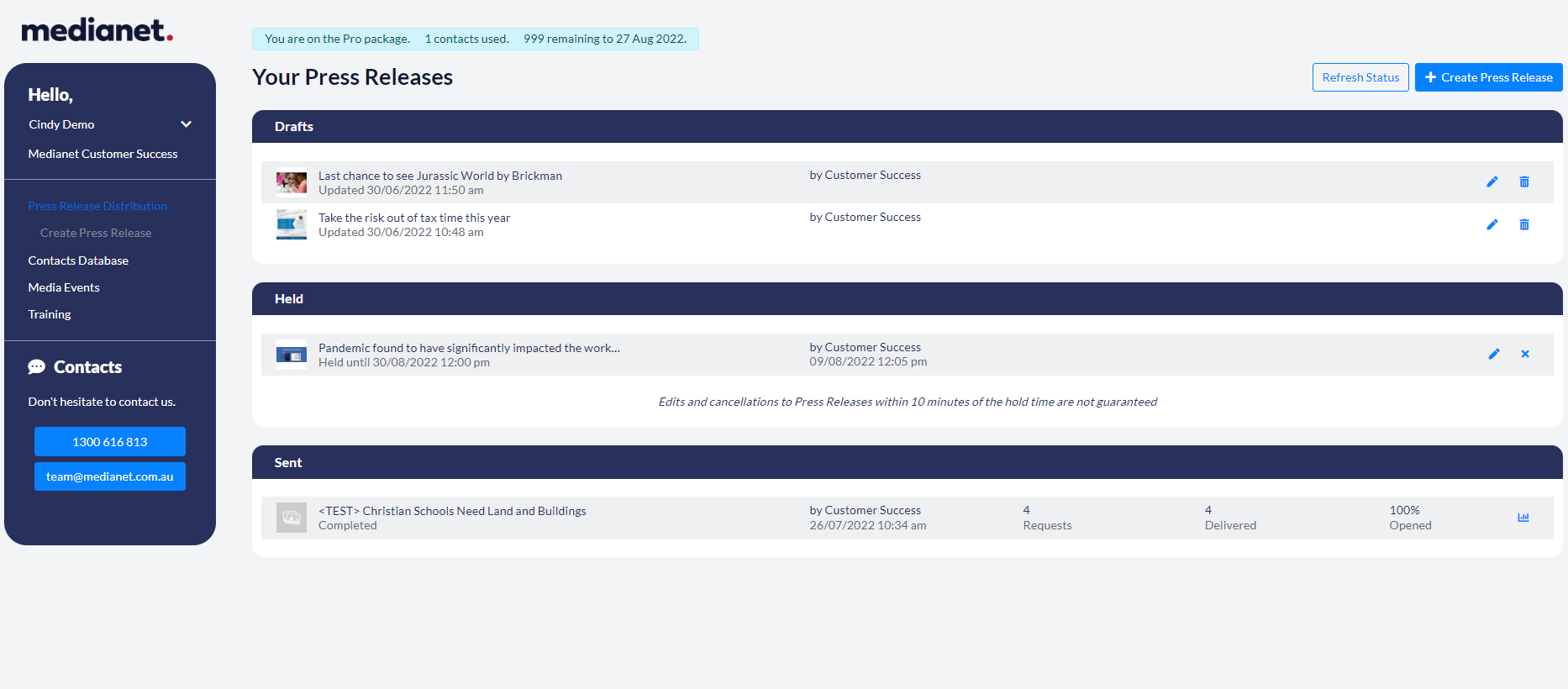 Once you are completely satisfied with the content and set up of your press release, click 'Submit Press Release', and it will be sent to your chosen recipients at the requested time.