Medianet's exclusive Pickup Tracker is a powerful feature for gaining insights into the impact of your PR efforts. Whether to gauge your story's reach or detect earned media coverage, it can provide the data you need to optimise your PR strategy.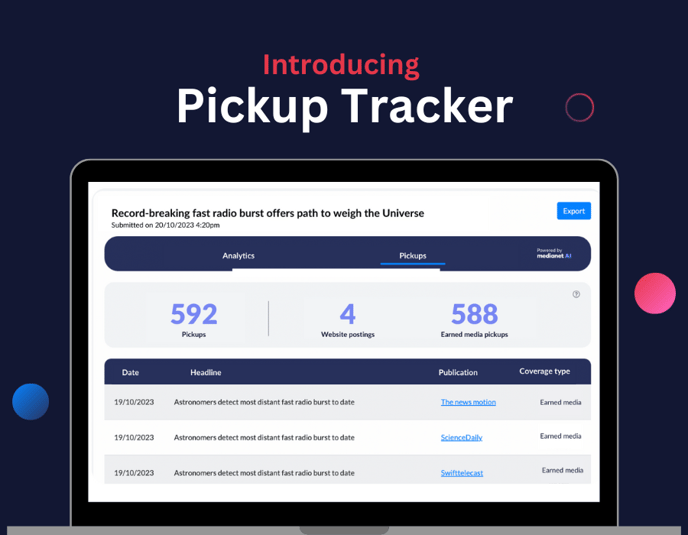 The Pickup Tracker, now integrated into the Medianet platform is a feature designed to revolutionise the way you measure the success of your press releases. Utilising advanced AI technology, this feature scans over 2,000 Australian media websites to detect where your press release has been picked up.
The Pickup Tracker offers two-fold functionality:
Media website postings: The Pickup Tracker can determine instances where your press release has been published in full on media websites. This enables you to quickly assess the reach of your story, helping you understand the extent of your press release's online distribution.
Earned media: In addition to media postings, the Pickup Tracker can also detect cases where parts of your press release text have been incorporated into articles authored by journalists. This indicates earned media coverage, offering valuable early insights into your PR success.


How it works:
The Pickup Tracker employs AI technology that scans over 2,000 Australian media websites for content mirroring the text in your distributed press release.
One of the standout capabilities of the Pickup Tracker is its exceptional speed and efficiency. Within just 12 hours after the distribution of your press release, individual links to your earned media coverage will be consolidated and accessible through your Medianet account. What's more important, this information will continuously update for a 30-day period if new media pickups are detected, ensuring that you always have the latest data at your fingertips.
How to use the Pickup Tracker:
Distribute your press release on the Medianet platform.
The 'View pickups' link will appear beneath the press release title under your 'Sent' records within 12 hours of it being distributed. Clicking on the link will take you to the dedicated results page.
The 'Media Pickups' tab will display instances where your release has been published in full as a media website posting or parts of your release text have been used in a journalist-authored article, indicating earned media.
Clicking on the publication link will allow you to view the online article destination in a new window. (Note that some news websites may require a paid subscription to access their content.)
Clicking 'Export' will download the data into a CSV file. Use this information to analyse the effectiveness of your PR strategy and adapt as needed to improve your media outreach.
Inspired by a fundamental challenge many PR and Communications professionals experience, Medianet's exclusive Pickup Tracker saves you significant time and effort by automatically consolidating press release pickup across online media sources. With no setup or additional cost involved, you can easily gain insights into the impact of your PR activity.
Note: A hard refresh of your browser's cache may be required to load the most recent version of Medianet and make platform updates visible.