EXTRA, EXTRA... THERE'S AN EXTRA LITTLE SHOP MINI TO COLLECT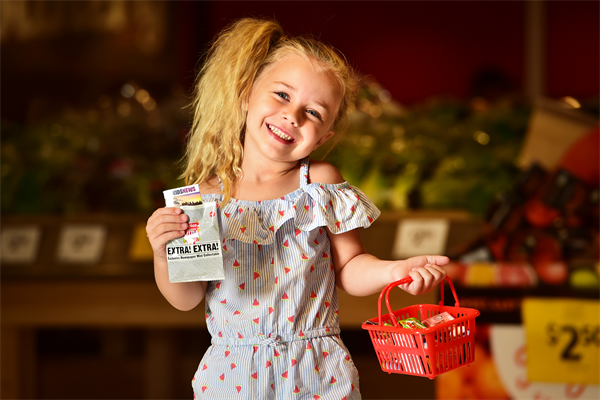 EXTRA, EXTRA… THERE'S AN EXTRA LITTLE SHOP MINI TO COLLECT
Coles customers can get their hands on a mini newspaper this weekend
Just when Coles customers thought they had almost completed their Little Shop 2 collections, a brand-new mini has been revealed.
Coles customers can collect a new Little Shop 2 mini newspaper this weekend for free just by purchasing a participating newspaper at Coles supermarkets nationally.
The exclusive Little Shop 2 mini newspaper has been published under the Kids News masthead – a national literacy resource for children and teachers with real news stories updated daily.
Coles Chief Marketing Officer Lisa Ronson the mini newspaper is a surprise addition to the Coles Little Shop 2 mini collection and a fun way to encourage children to learn and improve their reading skills.
"When we launched Little Shop 2 we said there would be some added features this year – we've had golden trolleys, golden collector cases, the chance to win bonus flybuys points using the mini Coles gift card, the Little Shop 2 dancing app and now the mini newspaper."
"We know that many parents and teachers are using the Little Shop 2 minis as educational tools to help kids with their numeracy skills. The new mini Kids News newspapers extend this learning and encourage children to enjoy reading and writing too."
"Customers can visit any of our supermarkets this weekend to get their hands on the exclusive Little Shop mini newspaper with any participating NewsCorp newspaper purchase."
News Corp Australia Chief Operating Officer Damian Eales said the Little Shop phenomenon has taken Australia by storm and this new mini newspaper will encourage kids to learn.
"Kids News is News Corp's national education platform for children and teachers, with news stories specifically crafted for children and housed in a safe, online environment," Damian said.


"We are passionate about the issue of literacy and improving the reading and writing skills of all Australians and we are thrilled to work with Coles and bring Kids News to the attention of more parents."
Coles customers can still pick up an original Little Shop 2 mini collectable with every $30 spent at Coles supermarkets, Coles Online and at Coles Express, and there's still 40 limited-edition gold trolleys to find.
Exclusions apply and while stocks last. For full terms & conditions visit coles.com.au/littleshop.


Participating Newspapers for bonus mini newspaper offer:
The Daily Telegraph (NSW)
The Sunday Telegraph (NSW)
Grafton Examiner (NSW)
The Northern Star (NSW)
Herald Sun (VIC)
Sunday Herald Sun (VIC)
Geelong Advertiser (VIC)
The Advertiser (SA)
Sunday Mail (SA)
The Mercury (TAS)
Sunday Tasmanian (TAS)
NT News (NT)
Sunday Territorian (NT)
The Courier-Mail (QLD)
The Sunday Mail (QLD)
Gold Coast Bulletin (QLD)
Townsville Bulletin (QLD)
Cairns Post (QLD)
Toowoomba Chronicle (QLD)
Sunshine Coast Daily (QLD)
The Morning Bulletin (QLD)
NewsMail (QLD)
Daily Mercury (QLD)
The Queensland Times (QLD)
The Observer (QLD)
Gympie Times (QLD)
Warwick Daily (QLD)
Fraser Coast Chronicle (QLD)
The West Australian (WA)
-ends-
For further information, please contact
Media Relations on (03) 9829 5250 or media.relations@coles.com.au
920230