WALK INTO A DYSTOPIAN FUTURE AT MONASH OPEN DAY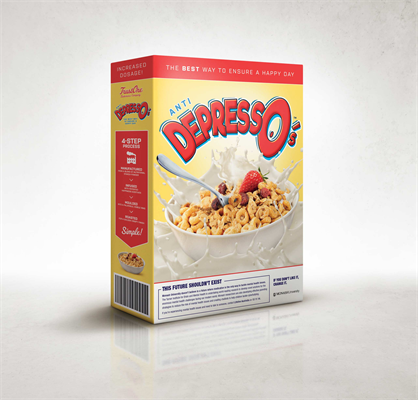 Antidepressant-laden cereals, energy ballots, artificial vegetables and vintage bottled water – these are the products of the future that visitors can taste, touch and experience when they walk into a dystopian world at Monash University's Open Day this Sunday. View product images here. The purpose-built installation at the University's Clayton campus features up to 17 interactive scenes – where visitors can walk through and interact with a range of fictitious products, services and digital experiences that may shape how we live in the future. It's part of Monash University's "Change it' campaign. The bold new activation, a 'Future Without Change', shows what life could be like if we continue to adapt to the world's problems rather than solve them. It provokes audiences to consider the consequences of inaction on issues like global warming, violence against women, food security, human rights violation, the spread of superbugs and cyber-crime. Each product represents a problem at crisis point and engages the audience to learn more about the interventions and solutions being pursued at Monash. The campaign is underlined by the University's commitment to pursuing global solutions to pressing issues facing the world, and encourages others to contribute to a better future through engaging with the Monash as a student, researcher, supporter or partner. President and Vice-Chancellor Professor Margaret Gardner AO said Monash is redefining what it means to be a top 100 university by showing our commitment to change, and encouraging people to help create a better future. "At Monash, we're always thinking about how our education and research can help address the challenges of our age," Professor Gardner said. "We have the people, the platforms, the intellect, the scale, and the collective appetite to make a difference. "We are committed to providing a world-class education and research environment that fosters a better world. As a student, staff member, partner or supporter of Monash University, you'll be encouraged and challenged to contribute to a better future." A Future Without Change will launch at Open Day on Sunday 4 August 2019 at Monash University Clayton campus. Open Day will be held at the Peninsula campus on Saturday 3 August, at Clayton and Caulfield campuses on Sunday 4 August, and at Parkville campus on Sunday 18 August. For more information visit the Future Without Change and Open Day websites.
-ENDS-
MEDIA ENQUIRIES Media Monash University T: +61 3 9903 4840 E: media@monash.edu For more stories and expert commentary visit Lens.
919094