ACON Small Grants Scheme Supports Community Events Commemorating IDAHOBIT 2019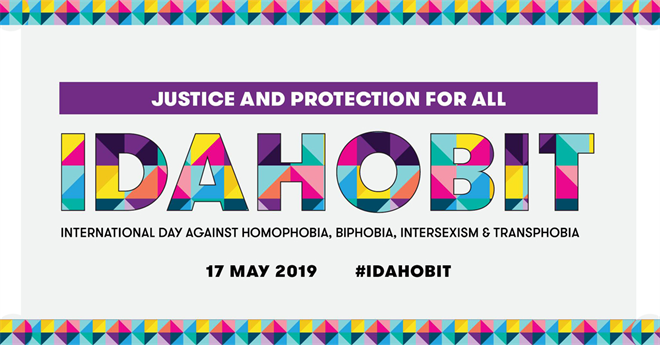 | | | |
| --- | --- | --- |
| MEDIA RELEASE | 3 MAY 2019 | FOR IMMEDIATE RELEASE |
ACON SMALL GRANTS SCHEME SUPPORTS
COMMUNITY EVENTS COMMEMORATING IDAHOBIT 2019
A host of community events and initiatives across NSW will mark International Day Against Homophobia, Biphobia, Intersexism and Transphobia (IDAHOBIT), which this year flies under the global theme 'Justice and Protect for All'.
IDAHOBIT takes place every year in the lead up to, and on, 17 May – the day in 1990 that homosexuality was removed from the World Health Organisation's International Classification of Diseases. The day aims to raise awareness of LGBTI rights, and the discrimination that many LGBTI people throughout the world continue to experience.
In recognising the significance of IDAHOBIT, NSW's leading LGBTQ health organisation ACON has provided support to local community initiatives with a small grants scheme to help increase awareness of, and engagement with, IDAHOBIT.
Eight grants of $650 each have been awarded to community groups and organisations throughout the state, five of which are in regional NSW. Among the activities being held are film screenings, panel discussions, community legal awareness workshops, and events aiming to connect communities. (See next page for a full list of grant recipients)
ACON CEO Nicolas Parkhill says IDAHOBIT events are vital in ensuring visibility for LGBTIQ communities in both metropolitan and regional areas.
"We were excited to see a diverse range of applications for IDAHOBIT events this year and the grants committee was pleased to see a variety of events for our communities, all centred on celebrating diversity and inclusion.
"IDAHOBIT provides us with a unique opportunity to come together and raise awareness of the discrimination, prejudice and injustice LGBTIQ people across the world still face.
"This year's theme highlights that while protection of LGBTIQ people has greatly expanded over the years, there is much more than needs to be done to ensure people of diverse sexualities and genders – across Australia and around the world – are free and safe to be themselves."
In the lead up to 17 May, an IDAHOBIT social campaign has been developed by ACON that incorporates various social media activations including a profile frame and an events list on Facebook, inviting other community members and organisations to share their IDAHOBIT event or initiative.
"ACON is proud to work with our partners in celebrating the rich diversity of our vibrant communities in NSW," Parkhill said. "By raising visibility we hope to continue to address discrimination, and work towards fostering an inclusive society that is healthier for us all."
For more information on IDAHOBIT:
• Visit the IDAHOBIT NSW Facebook event page here
• Visit the IDAHOBIT website here
ENDS
For more information please contact: David Alexander, ACON Media and Communications
E: dalexander@acon.org.au T: +61 (02) 9206 2044 M: +61 (0)428 477 042
RECIPIENTS OF ACON IDAHOBIT GRANTS 2019
Group Name

Town/ Region

Contact Person

Contact Details

Event Type

SOUTHERN FAR WEST OUTREACH

The Rainbow Underground

Wollongong

James Rose

rainbowunderground18@gmail.com

0468 937 260

Movie screening and panel discussion for LGBTIQA+ CALD, Indigenous peoples, and people with a disability and trans and gender diverse experience

HUNTER/MID-NORTH COAST REGION

Central West Trans and Gender Diverse Network

Dubbo

Marty Howe

0448 424 412

Day of events connecting LGBTIQA community with service providers and allies

Hunter Gender Alliance

Hunter/
New England

Katie Wynne

katie-jane.wynne@hnehealth.nsw.gov.au

0431 861 828

Legal and policy information session for Hunter's trans and gender diverse community

Gender Diversity Support Group

Tamworth

Dianne Harris

0429 030 854

Support information evening connecting Tamworth's LGBTIQ community

headspace Maitland

Maitland

Elizabeth Murphy-May

elizabeth.murphy-may@samaritans.org.au

0436 639 542

'All 4 One' movie night for LGBTQ+ young people 12-25

SYDNEY

Trans Action Warrang

Marrickville

Andie Yates

'Criminal Queers' film screening and discussion

First Nations Rainbow Aboriginal and Torres Strait Islander Corp

Redfern/

Darlinghurst

Russell Weston

admin@firstnationsrainbow.org.au

0431 338 488

'Stand Proud Together' event connecting Sydney's Indigenous LGBTQI community

WESTERN SYDNEY

Northcott

Parramatta

Alicia Melita

alicia.melita@northcott.com.au

0456 957 409

Sexuality and disability film night
915065