Back Your Neighbour Campaign / Local Government Mayoral Taskforce
Local councils rank the parties on support for asylum seekers living in Australia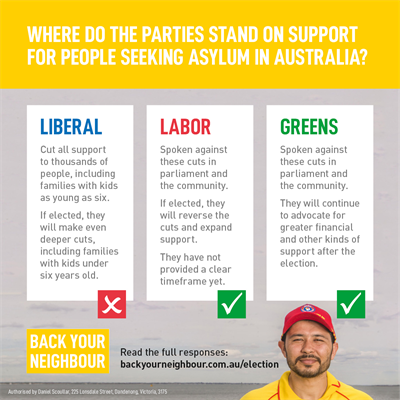 Local councils rank the parties on support for asylum seekers living in Australia
A coalition of local councils has released a federal election scorecard ranking the Liberals, Labor and Greens on their level of support for asylum seekers living in the Australian community.
The Federal Government has been widely criticised for the policy introduced last year which has seen highly vulnerable individuals and families with children as young as six cut off from all income support and denied assistance in areas like housing, mental health, disability and the basic costs of clothing, food and school costs.
This support was provided through the Status Resolution Support Services (SRSS) program. The largest numbers of people supported by SRSS live in Sydney, Melbourne and Brisbane.
If elected, the Federal Minister for Immigration, David Coleman, has indicated he will continue to expand these cuts to include families with even younger children.
The scorecard will be disseminated through the councils supporting the Back Your Neighbour Campaign, which represents 3.5 million Australians – many in marginal electorates.
It will also be shared through a large number of other supporters via email, social media and posters/materials shared through local organisations.
The Shadow Minister, Shayne Neumann, has committed to restoring this funding and reviewing the entire SRSS program if Labor wins the election. However, he has so far failed to provide a clear timeframe, raising concerns among some refugee advocates and communities.
The Greens Spokesperson, Nick McKim, has committed to advocating in parliament and the community to expand the financial and other kinds of support available to people seeking asylum in the community.
The full responses received from each party will be published at www.backyourneighbour.com/election at 9am AEST today.
Back Your Neighbour Campaign Manager, Daniel Scoullar, said the campaign had broad reach in local communities and that he hoped voters would think about the way the parties treat vulnerable people in their local areas when they vote on 18 May.
"Our group of local councils represents over 3.5 million Australians across suburbs and regional areas. Our message is simple: Leaving individuals and families with nothing to survive on is cruel. It is important voters understand the positions of the parties before they vote."
"These cuts hurt people who are our neighbours and friends. They live in our streets, their kids go to our kids' schools, and they are part of our local communities."
"Targeting a harmful policy at people who have come to Australia for safety from violence is not fair. It is pushing people into deep poverty and crisis while putting incredible pressure on material aid, homelessness and emergency health services. That has to stop."
Background:
The Status Resolution Support Services (SRSS) Program provides basic support to individuals and families living in the Australian community waiting for a decision on their refugee status.
It provides help with the basics of life like housing, food, clothing, health and kinder/school costs. It also provides mental health support.
As of last year there were 13,000 people supported by this program. Since then, thousands have had that support cut by the Federal Government with more being cut each week.
The Back Your Neighbour Campaign is supported by the following councils:
· Ballarat City Council
· Banyule City Council
· Bass Coast Shire Council
· Greater Bendigo City Council
· Brimbank City Council
· Greater Dandenong City Council
· Canterbury Bankstown City Council
· Cardinia Shire Council
· Darebin City Council
· City of Greater Geelong
· Hawkesbury City Council
· Hobson's Bay City Council
· Hume City Council
· Inner West City Council
· Leeton Shire Council
· Macedon Ranges Shire Council
· Maribyrnong City Council
· Maroondah City Council
· Monash City Council
· Moonee Valley City Council
· Moreland City Council
· Mornington Peninsula Shire Council
· Port Phillip City Council
· Borough of Queenscliffe
· Wagga Wagga City Council
· Wellington Shire Council
· Whitehorse City Council
· Whittlesea City Council
· Wyndham City Council
· Yarra City Council
More information: www.backyourneighbour.com.au
Authorised by Daniel Scoullar, 225 Lonsdale Street, Dandenong, VIC, 3175
Media contact: Daniel Scoullar, 0402 596 297, daniel@backyourneighbour.com.au
914938