GOLD RUSH! History is made as Prestige Hino lands Dealer of the Year making it three in a row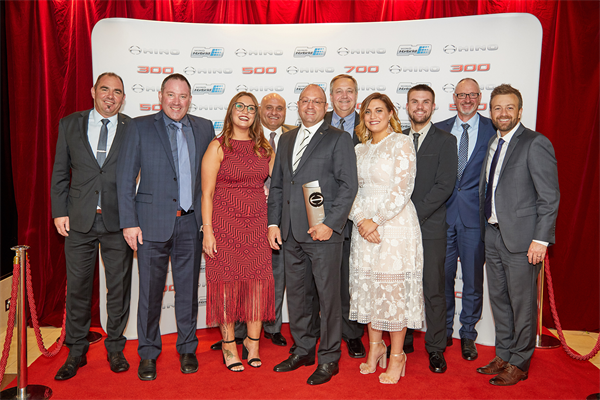 If the Commonwealth Games held an event for 'Excellence in trucking', Prestige Hino, Dandenong would be top of the podium, adding more gold to their already impressive tally.
The dealership won the coveted award, 2015, 2016, and now 2017.
An emotional Angelo Valerio, Dealer Principal of Prestige Hino, fought back tears as he accepted the award on behalf of his team, calling them passionate, motivated and unstoppable.
The gala event, held in Sydney on Saturday evening, was packed with Hino dealership personnel from across Australia, with the Prestige Hino team celebrating the record breaking achievement long into the night.
With a heavy emphasis on a culture of success and customer service, Angelo said 2017 for Prestige Hino was not about winning anything.
"We set goals and opened projects we needed to complete. 2017 was a year with massive behind the scenes work proceeding as the company evolved into the 21st century. This didn't come without challenges, but we ticked all the boxes at the same time, leading us to make history with our third Hino Dealer of the Year," he said.
"Personally, I can't truly express how proud this year's award makes me feel of my team without welling up. I have to pinch myself when I think I'm leading such a passionate, driven, focused bunch of individuals who ultimately work together to form such an unstoppable team."
Angelo re-joined Prestige Hino as the Dealer Principal in 2015, and although all records have been broken, the dealership continues to strive for excellence in all areas, with a heavy focus on customer service.
For more information:
Alex Meehan
BossMan Marketing
Phone: (03)94212886
Email: alex@bossmanmarketing.com.au
http://www.hino.com.au/dealer/prestige-hino/
Image: Left to right:
Danny Timewell, John Elliot, Amanda Gardiner-Smith, Leo Morabito, Angelo Valerio, Grant Eastaway, Tracey Gardiner-Smith, Ryan Zaretzky, Eric Papworth and Jason Cugley
-ends-
897154