Monash Business School's Artist-in-Residence presents: Dating an Accountant - How do you Measure Love?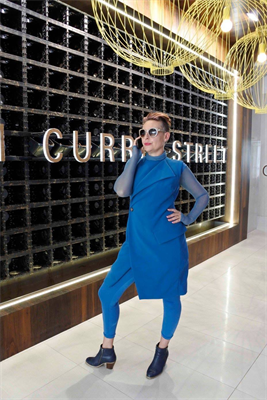 Monash Business School's artist-in-residence presents:
Dating an Accountant – How do you measure love?
In the balance sheet of life how do accountants account for love? While they have a way of calculating profit and loss, a little creativity may be necessary to inject the profession with a fresh approach to maintain their relevance.
To this end, Monash Business School has an artist-in-residence program aimed at fostering collaborative connections between art and business.
The brainchild behind the program is Dr Nick McGuigan, Associate Professor of Accounting, Monash Business School, who believes that if accountants don't start investigating new and creative ways to change their profession, they will be replaced – with robots and AI automating many of the tasks they currently undertake.
The inaugural artist-in-residence, Bek Conroy, will playfully investigate accounting and the everyday, inviting academics, students and industry to take part in this innovative event exploring their creativity culminating in a dating marathon where she will invite six accountants to 'go on a 30-minute date' with her.
Everything will be captured in an open space as a live performance, creating a short film that will explore value, the complexity of accounting language and the contradictions and complications of measuring the emotional aspect of our lives as humans.
A trailer from this innovative project will be played before an audience at CPA Australia on Thursday 19 April 2018, followed by a panel discussion: Dating an Accountant: Taking Account of Love, which is open to the public from 6pm - 8pm CPA Australia, Level 20, Freshwater Place, Southbank VIC
"We are interested in the way conceptual artists can help you look at things from different perspectives. That's what accounting needs – a different way to break down silo-thinking and open up people's minds to find new and different ways of creating value for organisations and society," Dr McGuigan said.
"I conceptualised the residency program as an innovation to break traditional thinking in accounting, using art as a way to open dialogue across disciplines and create numerous ways to engage with conversations around the future of the accounting profession.
"Creative accounting is often used in a negative light. However creative skills are highly beneficial in our profession and so collaborating with artists just makes sense. We as a profession need to reclaim the true sense of creativity as it will be the future of all professions," Dr McGuigan said.
The artist in residency program is aimed at staff, students and industry acting as a conduit to open up accounting and its educative process in more creative ways – thinking about future employment of graduates including integrative thinking, design thinking, and trans-disciplinary discernment. For academics it becomes a professional development opportunity to have critical dialogue around their research and teaching, its impact and the way it is told.
"Performance-led artistic interventions and radical provocations aim to explore the messiness of business, creating deeper, more integrated conversations that invoke new ways of seeing and playing in our work," Bek Conroy says.
The 'Dating an Accountant' event is aimed towards industry and the general public, with CPA Australia hosting an industry-focused event to showcase the conceptual work and then for this to go into a public exhibition coming up in Melbourne's CBD in May 2018.
About Rebecca Conroy
Rebecca Conroy is an interdisciplinary artist who works in artist-led practice and philosophy as a director, curator, producer, researcher and writer across community, experimental site-based events, discursive practices, and intercultural collaborations.
This project was first initiated by the artist Dr Rebecca Conroy as Dating an Economist which in 2015, saw her travel across three countries dating five economists to record her findings for an audio piece commissioned by Radio National.
Event
Thursday April 19, 2018.
Panel for Dating an Accountant: Taking account of love. 6pm – 8pm CPA Australia, Level 20, Freshwater Place, Southbank VIC
Register: https://www.eventbrite.com/e/dating-an-accountant-taking-account-of-love-tickets-44092528941
CONTACT
Julie McBeth
Editor (Impact) and Media Advisor
Monash Business School
Monash University

T: +61 3 9903 1616 E: julie.mcbeth@monash.edu
M: T: +61 418992485
For more news from the Monash Business School stories, visit Impact
897130