Gold Coast 2018 Commonwealth Games Corporation
Festival 2018 commission provides new opportunity for local dancers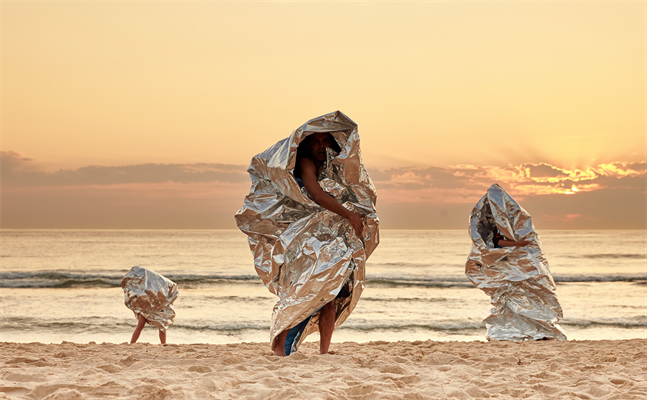 Festival 2018 commission provides new opportunity for local dancers
Local dancers are in final rehearsals after being given the opportunity to work with acclaimed Australian dance theatre company Force Majeure, in a new commission FLOCK that will premiere from 12-15 April as part of Festival 2018, the arts and culture program of the Gold Coast 2018 Commonwealth Games (GC2018).
Directed by Force Majeure Artistic Director Danielle Micich, 60 Gold Coast locals, along with dancers from the company, will perform against the spectacular backdrop of the Surfers Paradise beach sunset in the world premiere.
FLOCK is a major commission of Festival 2018 and is just one example of professional development opportunities underway as part of the legacy to build the capacity of the Gold Coast's artists and community members.
Festival 2018 Gold Coast Co-Creative Director Kate Fell said these collaborations allow artists to build their skills and networks with leading artists.
"An international arts festival is all about an exchange - of ideas, of creative inspiration, of experiences, of memories.
"FLOCK is one of the larger local projects and for some of these dancers, it is a once-in-a lifetime opportunity to learn from top industry talent and experience how these projects come together," Ms Fell said.
Seventeen-year-old Gold Coast dancer Jaimie Burrows said being a part of the project has been an extraordinary experience she never thought she'd have.
"It's been thrilling to take part in classes with Force Majeure dancers and be guided by Danielle in her unique style.
"It's a surreal experience to see the creative process unfold, I've learnt so much from being part of this group already and can't wait to perform down at Surfers," Ms Burrows said.
GOLDOC CEO Mark Peters said Festival 2018 Gold Coast was "bound to leave a powerful, long-lasting legacy."
"Festival 2018 is a significant platform for Queensland to accelerate growth, development and connections for the arts and creative industries.
"It's great to see so many local artists getting involved and having an opportunity in projects such as FLOCK," Mr Peters said.
Led by Artistic Director Danielle Micich, Force Majeure creates works that reflect Australian life in all its diversity, by exploring and questioning contemporary culture using intelligence, humour and insight.
FLOCK explores humankind's search for meaning in the natural world and is a new creation for Festival 2018 Gold Coast, 12 action-packed days of culture taking over the Gold Coast from 4-15 April to celebrate GC2018.
For full program details and more information on Festival 2018 visit gc2018.com/festival2018.
-ENDS-
EVENT DETAIL
Dates: Thursday 12 - Sunday 15 April 2018
Time: 4:30pm
Duration: 60 minutes
Venue: Surfers Paradise Beach, Surfers Paradise
Tickets and Bookings: Free event, no bookings required
Further media releases, images and assets are available for download on brand.gc2018.com Media are invited to register and follow the links to the Festival 2018 folder.
For more information, please email festival2018media@goldoc.com or contact:
Bronwyn Bender: +61 481 907 056
Arts and Culture Communications and PR Specialist
Gold Coast 2018 Commonwealth Games Corporation (GOLDOC)
Cassie Grace: +61 466 023 291
Arts and Culture Marketing and Communications Lead
Gold Coast 2018 Commonwealth Games Corporation (GOLDOC)
895955