Lois Maskiell, Online Journalist at SmartCompany
By Nell O'Shea Carre
24 August, 2021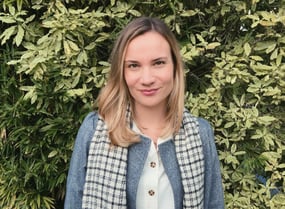 Online Journalist Lois Maskiell spends most of her time at work interpreting how major news stories will affect small businesses and startups.
The new journalist landed her first graduate job last year at SmartCompany, an online publication for Australian entrepreneurs and businesspeople.
Lois says many of the stories she has written in the past 12 months have focussed on the domestic effects of international politics and the COVID-19 pandemic.
"There are always stories about COVID restrictions and their impacts on businesses. So it's been interesting, and often a little sad to hear directly from businesses about how they've been going," she says.
"When I started there were some international business stories that were breaking at the time. So I covered Australia China trade tension and the tariffs that were put on barley and wine imports.
"That was really interesting, because while it's an international news story, it has implications for small businesses, which make up SmartCompany's audience."
SmartCompany is a Private Media publication, which also owns Australian news platform Crikey and The Mandarin — aimed at leaders and executives in Australia's public sector.
"We're a pretty small team so we work quickly and we have a daily newsletter as well as a subscriber platform that we launched recently," Lois says.
Lois graduated from her Master of Journalism degree late last year, following a tumultuous final year of cancelled internships due to COVID-19 restrictions.
As part of this degree, she completed a thesis on the level of protection that confidential sources and journalists receive in Australia compared to France.
"I looked at some recent incidents where the identity of a confidential source was threatened in a legal proceeding or by law enforcement agencies, and compared how the laws stacked up in both of those contexts," Lois says.
"The findings were that France's media law framework, in terms of the way it protects confidential sources, is much stronger than in Australia.
"Not only does it have a stronger recognition of freedom of expression which recognises confidential sources as part of that freedom, it also has some legislation that theoretically stops law enforcement agencies from accessing the metadata of journalists and things like that."
Australia's media freedom laws have come under scrutiny in recent years. A senate report tabled in May recommended changes to protect public interest journalism.
A Medianet survey of over 1,000 Australian journalists in 2020 found 90 per cent believed the pandemic had also heightened threats to public interest journalism.
Lois says her understanding of media laws, such as defamation laws, has been useful in her business reporting. Prior to landing the job at SmartCompany, she was "completely new to business".
"I was open to covering business, I was interested in it as a specialisation, but I had never studied business previously. Since then I have definitely brushed up on some economics and finance content. I'm enjoying it a lot," she says.
"I find budgets interesting. I like the intersection of state and federal policy with business. I think I find those types of stories the most interesting."
Lois's pitching preferences:
"I'm always looking for something that's specific to my audience, so it has to be relevant to the news publication that I work for. I also like if they're clearly written and easy to understand. You only need to know the basics.
"I think it's important that people who send press releases know that often a journalist will want to do an interview. They're not going to just use the information that has been presented in the media release. So as long as it gets the basic message across it's sufficient."