Interview with Joseph Attanasio, Editorial Assistant at The Daily Telegraph and The Sunday Telegraph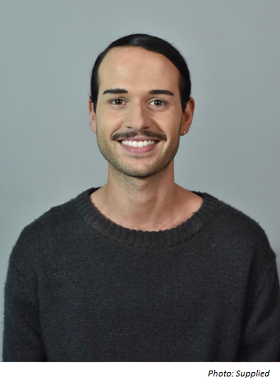 Joseph Attanasio is the editorial assistant at both The Daily Telegraph and The Sunday Telegraph. This is his first full-time gig in the media industry and he is stoked with how much he has already learnt at one of the biggest mastheads in Australia. Joseph studied a Bachelor of Journalism at Macleay College and quickly found his passion for covering breaking news. Interning at news.com and The Daily Telegraph, Joseph has set himself up with a strong beginning to the race. He is definitely one to watch as we're sure he has nothing but success in his horizons. Joseph tweets at @joe_attanasio.
What are the most important skills that your new job requires? How and why do they apply?
I'd say the most important skills I need at work are efficiency and organisation. To be as thorough as possible but also understanding the importance of a deadline. Good people and communication skills are also key. Especially when approaching members of the public who may not be used to speaking to the media.
What would your advice be to your younger self who just decided to become a journalist?
Just work hard and keep at it. Although my current role is only a stepping stone to where I'd like to be in the long run, working alongside such hard-working and dedicated journos has really reiterated that telling stories is what I want to make a career out of.
So far, what has been your favourite or most interesting story you've written?
A couple comes to mind but I'd have to say firstly, one of my favourites would be a story I wrote back in March about native Australian frogs. It turns out these frogs were being killed all around the state by people mistaking them for cane toads, some of them were endangered, so I potentially played a small part in saving an endangered species was pretty cool. Another one that I wrote a few weeks back about mitochondrial disease, this young couple had just lost their six-month-old son and wanted to share their story to help others going through the same thing and raise awareness.
Walk us through your process on how you sort through your press releases, from what's usable and what's not.
It's a fairly straightforward process for me. Whenever I get a press release (which is several times throughout the day), I read it and try to find the most newsworthy part, if there's a particular statistic or angle that I think would be of interest to the public, our readers or would even make a good photo op, I'll pitch it to my chief of staff.
Who has helped you in your career so far that you'd like to give thanks to?
I'm really lucky to have had so many amazing people help me along the way so far in my career, from my lecturers at uni (special thanks to Kathy Marks), to everyone at the Sunday Telegraph that mentored me during my time as an intern (Claire Harvey, Yoni Bashan, Ben Pike, Jack Morphet, Miranda Wood) and now the incredible team with the Daily Telegraph (Rose Brennan, Ashleigh Gleeson, Karen Raghavan).